Because the solar installation business has become so competitive over the last few years, it is important to strive for maximum efficiency during execution. This will not only help you achieve profitability, but it will also enable you to ensue the best quality of work.
Tracking project BOQ, material purchase and costs will help you monitor the actual costs against the budget, to ensure your project is finished efficiently and profitably.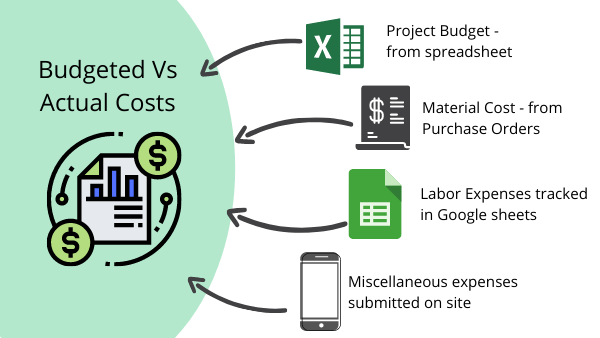 You can only improve what you can measure. Therefore, you must continuously measure the budgeted vs actual costs of your projects to ensure your business stays profitable.
Leverage standardization in project BOQ and cost control
Solar installation projects are quite similar to each other and can be greatly standardized.
You can leverage this standardization to simplify your project BOQ items and facilitate better control over material costs with the help of standard material codes.
Furthermore, you can also use a standard project SOW and standard list of activities for better tracking of labor costs and other installation related costs.
Challenges
Some commonly seen challenges arise out of the habits of the project team.
Moving away from spreadsheets
Most solar teams prefer to create their project BOQ, track material costs and other expenses with Excel or Google spreadsheets. That is mainly because of how flexible, inexpensive and easy spreadsheets are.
But there is a drawback. Most of these project BOQ spreadsheets operate in a standalone manner. They become data silos. Material purchase may be tracked in ERP, labor and other expenses may get tracked in other sheets.
A project manager will have to spend a lot of time connecting all these dots to track the financial health of a project. So a big challenge is – how do you get your project team to move away from spreadsheets?
Connecting all processes and team members
Project budget is created by the planning team and project manager. Later on a purchase manager or store manager purchases the required material. Site engineers are responsible for keeping track of labor and other miscellaneous project expenses on the site.
Basically, you have multiple stakeholders and processes which must be connected to get a holistic picture of the solar project costs.
You need a central collaboration platform where each stakeholder can give their inputs and all these dots can be connected in a smart but automated way.
Workflow customization
Every solar project team has their own way of managing the financial aspects. Some teams prefer nimble operations, less hierarchy and simple processes. Whereas other more complex projects would need detailed approval processes for all purchases and expenses, along with a sophisticated reporting structure.
For this reason, there is "no one size fits all" solution when it comes to cost control and financial management of a solar business.
What is required is a solution that can be easily customized as per the nature of the business and the work culture.
Solving challenges with Fuzen
Fuzen's solar project management solution helps solar installers to keep track of project progress, actual costs, labor utilization, expenses etc. against the planned project SOW and budget.
Integrate with spreadsheets
Fuzen is built on top of Google Drive. It integrates easily and seamlessly with Google spreadsheets. So you no longer need to worry about moving your team away from spreadsheets.
Let them manage their project BOQ, budget and costs in spreadsheets. Fuzen will take care of connecting the dots, thanks to our Google sheets integration.
Daily todo list reminders – connect all team members
For any project management solution, it is important to keep all the project team members in loop. Fuzen does this with the help of email and WhatsApp integration.
All your project team members get a 'Todo List' email every day, telling them exactly which progress updates, purchases, material dispatch or follow ups are pending at their end.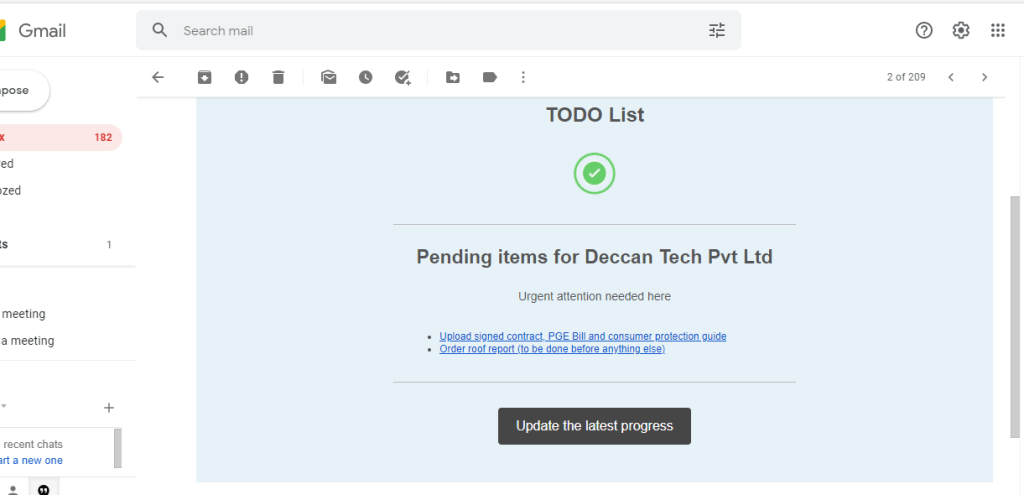 WhatsApp notifications make it easy for them to give their inputs in a few seconds and then get on with the actual project work.
At the end of the day, Fuzen takes care of gathering the inputs from all your project team members on a central platform.
Workflows – to connect all processes
All the spreadsheets, apps and app integrations within Fuzen are connected with predefined workflows for – cost control, expense tracking and insightful reporting.
You can use these workflows to connect all the important processes which revolve around financials and cost control for your project.
Customization
When you install the project management app, it will be configured with our default workflows for project cost control.
But you can easily customize . Fuzen is 100% flexible and our support team can help you to mold it the way you want.
Or you can check out this documentation if you want to explore the customization by yourself.