Over the last decade solar's share in energy mix has been rising, so is the number of solar installers. Correspondingly, we have seen many project management software platforms claiming to be the best suited for solar EPC.
As a solar installer, how do you find the best project management software for your solar business?
INDEX
1. Evaluating project management software for solar EPC
1.1 Large number of smaller projects
1.2 Fast tracked projects
1.3 Standardization
1.4 User friendly interface
1.5 Remote sites
1.6 Integration with material purchase and stores
1.7 Integration with sales and maintenance
2. How much does a solar project management software cost?
3. Fuzen's solar project management software
Evaluating project management software for solar EPC
Solar EPC businesses has some peculiarities that need to be considered when evaluating a project management software. Let's look at some important factors for evaluating if a project management software meets solar EPC specific requirements.
Large number of smaller projects
Typically, majority of rooftop solar installation projects are smaller in size – of a few kW capacity. So an average solar installer executes a large number of such small scale projects every month.
This is very different than most other construction projects where a contractor can focus on a few projects running for a number of months or even years.
Most construction project management tools are actually designed for larger and more complex projects with a lot of focus on individual activities, their schedule, workflows etc.
But in case of solar project management, you need a software that enables easy management of a large number of projects. Focus should be mostly at the project portfolio level, where you can oversee the execution of all ongoing projects, drilling down to a specific project only in case of delays or problems.

Fast tracked projects
The average solar installer typically executes a large number of small projects in a month. Most of these projects are of a few kW capacity. They need to be completed in a few weeks.
So most rooftop solar installation projects are very fast paced. Comparatively, most other construction projects last for at least a few months and can even drag on for a few years.
Project management tools commonly used in traditional construction projects enable you to manage complex project schedule with dependencies, forecast schedule, baseline etc.
But in case of rooftop solar, project execution is so fast paced that you don't even get time to perform detailed scheduling, baseline and forecasting for each project!
In rooftop solar project management, you need a software that can easily create the schedule with a standard set of dependencies and then send you daily email alerts if any of those planned activities go off track.
Standardization
By now it's clear that in rooftop solar business you don't get time to schedule, manage or analyse each individual project in great detail.
Therefore, as an installer you should always try to standardize your project execution as much as possible. For example, having a standard BOQ, material rates, work breakdown structure, project dependencies etc, is going to significantly minimize the project management effort.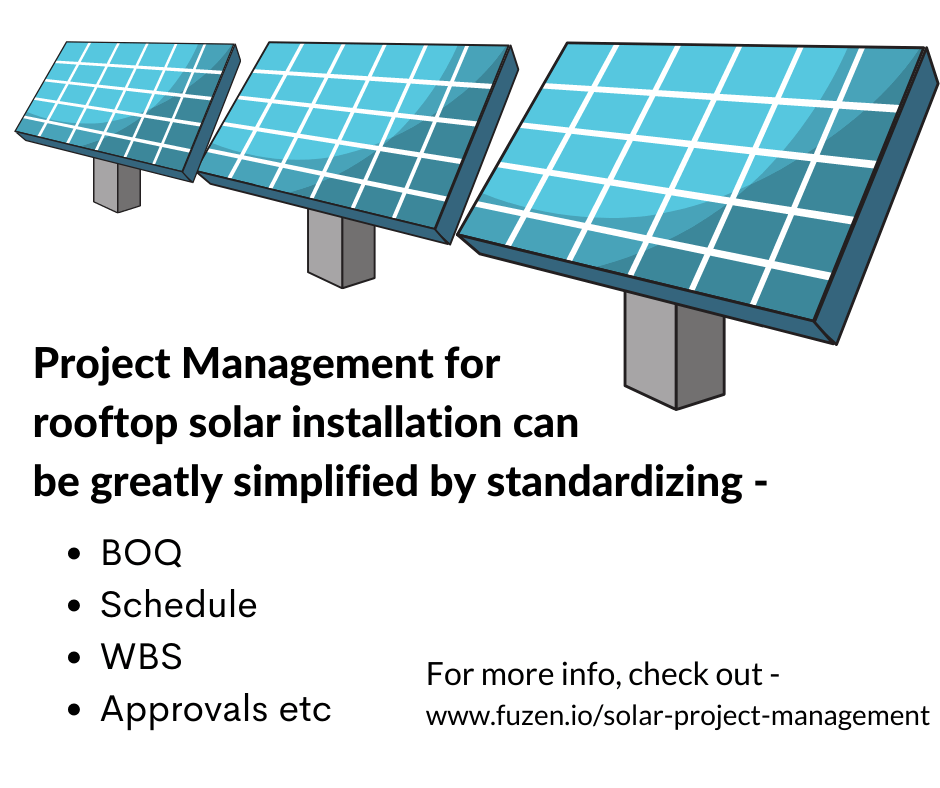 By and large, most rooftop solar installation projects are very similar to each other. So this standardization is easily possible.
You should select a project management software that allows such standardization of project activities, documents, BOQ, budget, schedule etc. Ideally, it should enable you to create standard project management templates which can be readily used and edited only when required. For example – templates for schedule, BOQ, approval workflows etc.
User friendly interface
For small solar projects, you don't actually need very highly trained project managers. In fact, for most rooftop solar businesses, majority of project engineers don't have formal project management training (PMP etc).
It's not even needed. Even without any project management certification, they do a good job of managing the projects.
But you don't want to confuse them or slow them down by using unnecessarily heavy project management jargon commonly found in complex project management solutions.
For example, a rooftop solar project manager doesn't really need to worry about project baseline.
Rather you should empower the project managers in your company with simple tools that they can fully understand and manage. So look for project management software that has simple user interface suitable for rooftop solar.
Remote sites
Many project sites are remote with low internet connectivity. But still your site engineers will often need to access important documents, drawings etc from site.
The site engineers would also prefer to access project information straight from their mobile phones. For example – a mobile friendly site survey form.
Keeping this in mind, you should look for a project management software that works well with low network connectivity or even allows offline working. Preferably, it should be mobile friendly as well.

Integration with material purchase & stores
Given the high competition in solar installation industry, your success will depend on how efficiently you execute your projects. Any delay, idle time on site will shrink your profit margins.
But this can be avoided with proper coordination between your installation team and material stores.
Whenever a new solar project on your dashboard, it should trigger a notification to the purchase team with the BOM (Bill Of Materials) for that project and project schedule.
Your solar project management software should help purchase and stores to ensure that all required items are available on the scheduled installation date.
Integration with sales and maintenance
Rooftop solar projects are not executed in stand-alone manner. Usually these solar installation teams are small in size, they work very closely with each other, frequently sharing and collaborating on the same data.
For example, a sales engineer performs the site survey when he meets with a prospect. Documents, photos and data from this site survey is used by the project engineer at the time of actual installation. Later the documents and drawings from the project execution have to be passed on to maintenance team for regular upkeep of the solar PV system.
Therefore, your rooftop solar project management platform should be well connected and accessible to the sales and maintenance teams as well.
How much does a solar project management software cost?
Costs of a project management software solution usually depend on a few factors such as – complexity, flexibility, modules and features provided, number of users, customization requirements, hosting costs etc.
Enterprise level project management software solutions can easily cost upwards of $50,000-$100,000, plus annual maintenance and hosting costs.
But smaller solar EPC businesses wouldn't need all the fancy features and scalability of an enterprise grade solution. Instead, they need a project management solution that is lightweight, inexpensive but flexible at the same time.
That's why at Fuzen we built a project management software on top of Google Drive. Using Google sheets as a base makes the project management solution very flexible and easily customizable.
And since Google does a lot of a the heavy lifting for us, Fuzen's solar project management software is quite inexpensive. For a small team, it costs $95 per month, while larger teams can use the same solution of $295 per month.
Fuzen's solar project management software
Fuzen offers a standardized solar project management software built within Google Drive.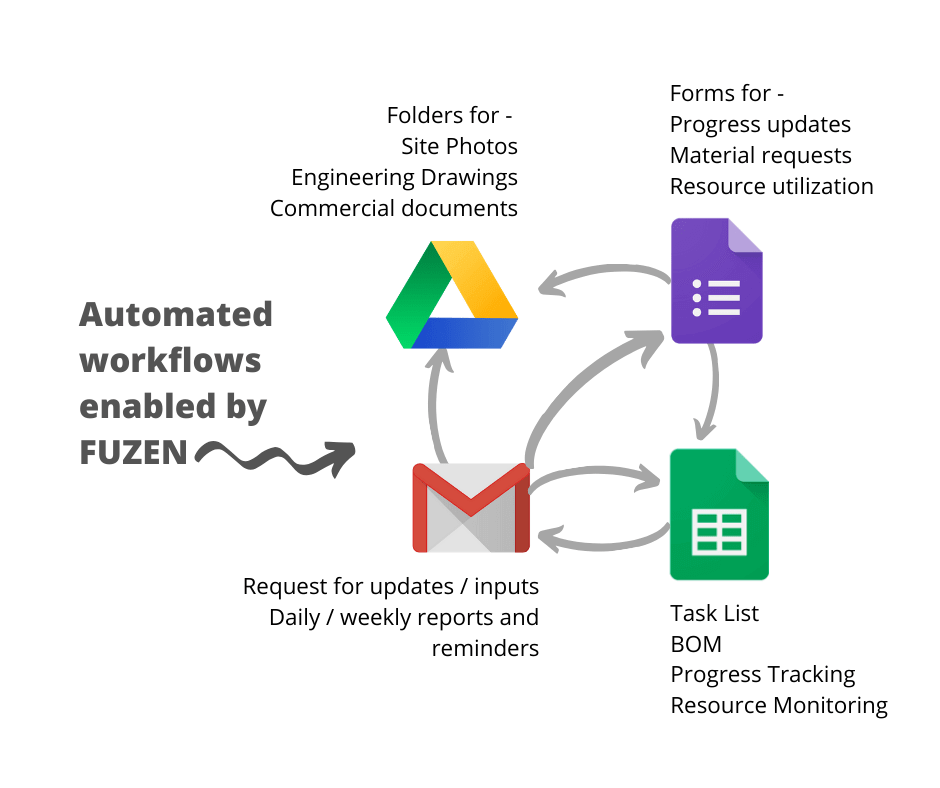 It is built by integration of Google Drive apps such as – Gmail, Google Sheets, Forms and Drive. So the UI is very simple, user friendly.
Google Drive apps are very mobile friendly and lightweight. They can be opened in low network areas and even allow offline working.
The workflows are 100% flexible. Fuzen's project management workflows can be customized to exactly match with your established work practices and also connect with sales and maintenance processes. You can easily connect it to Fuzen's solar CRM software.
The customized workflows can be saved as templates to enable standardization of your solar projects.
Fuzen's portfolio dashboard and daily email alerts enable effortless tracking of a large number of fast tracked projects.