Most solar installers prefer to track and manage their project work in simple tools like emails, spreadsheets, shared folders etc. These simple tools are inexpensive, very flexible and easy to get started with. But on the flipside, they don't provide the connectivity and real time tracking capabilities that we find in any modern project management software.
So what is the best approach to manage your solar projects? Is there a project SOW template that provides flexibility of spreadsheets along with connectivity of a project management app?
Let's take a closer look.
Type of content
1. Spreadsheets – advantages
2. Spreadsheets – disadvantages
3. Project management tool connected to spreadsheets
4. Managing project SOW in spreadsheets
5. Automated progress tracking
Spreadsheets – advantages
Flexibility
The number one reason why most project managers in infrastructure space use spreadsheets is flexibility. Every project manager and project team has their own preferred way of tracking project activities.
The basic principles of project management and key concepts like – planned timelines, dependencies, resources, baselines etc. remain the same. But the way that these things are structured and tracked changes from project to project.
Spreadsheets provide enough flexibility for every project manager to work with their own preferred project SOW structure or template.
Inexpensive
Managing your project work in a spreadsheet is drastically less expensive compared to a project management software and even free at times.
Simple
Spreadsheets are already widely used by almost everyone. They are also used for a wide range of applications – because they are so very simple to use.
When you are working with an Excel template for a solar project SOW, you don't need to extensively train your team. It's the simplest option for them to get started with.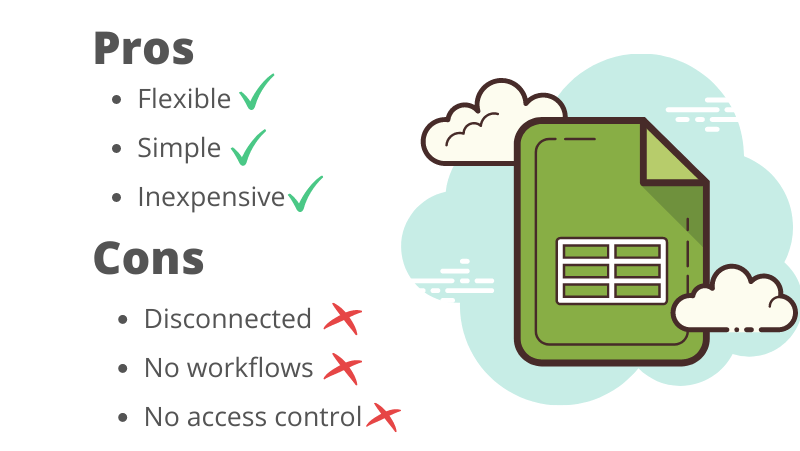 Spreadsheets – disadvantages
Lack of connectivity
Probably the biggest problem with using spreadsheets in solar project management is their lack of connectivity. Because spreadsheets work like silos, all the data that goes in or out has to be manually updated.
Updating daily progress reports in an Excel sheet can take up a significant time of a project manager's day.
That is time taken away from other important work – inspections, meetings, follow ups. In other words, spreadsheets will drag down your efficiency.
No role based access restrictions
Solar installation projects are collaborative work. You will need inputs from different people to update your project tracking spreadsheets – design engineers, installers, sales people, electricians etc.
If you are working with a simple spreadsheet template for your project SOW, you will need to share the complete spreadsheet with everyone to get their inputs. This goes along with the risk of someone accidentally updating or deleting parts that they are not supposed to.
Ideally you want to share only specific parts of your SOW with specific people. But spreadsheets don't allow that.
Workflows missing
Spreadsheets are basically bookkeeping tools. They're not equipped with automated workflows – to send reminders, calculate progress, update timelines, forecast important milestone dates, predict cash flows.
Project management tool connected to spreadsheets
Looking at these pros and cons of using a spreadsheet to manage solar project SOW, the ideal project management solution for solar installers would be something that combines the flexibility of spreadsheets with the connectivity and workflows of a project management software.
Fuzen's solar project management app does exactly that. It uses Google spreadsheets to manage the SOW, BOQ, expenses and other important records from your projects. But all these Google sheets are then linked to each other and also to an intuitive project management dashboard.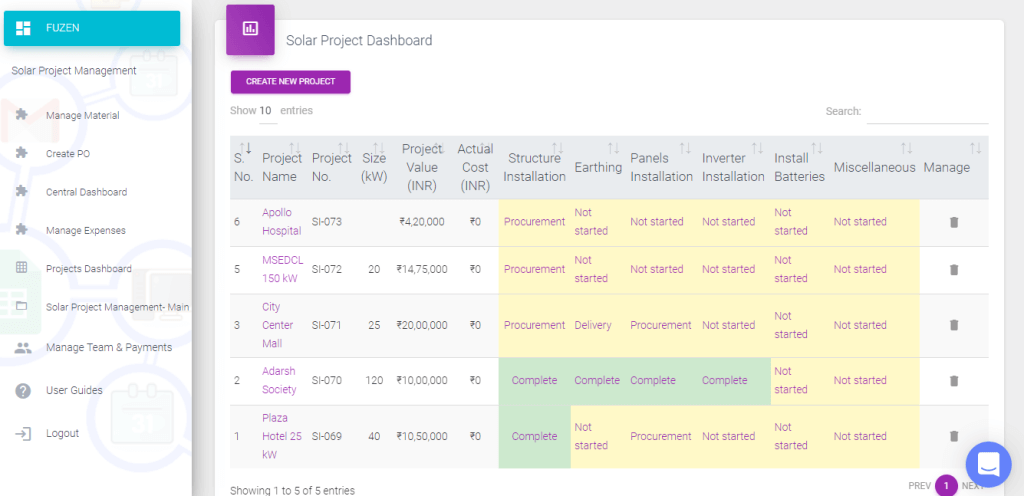 Fuzen offers you the best of both worlds. Project SOW is created from a Google spreadsheet template, making it very easy to set up the activities, budget, project schedule and delegate tasks by simply editing the Google sheet.
The project SOW template itself is very easily editable, so that you can save your standard list of activities, schedule etc. in a project template – which becomes the starting point for any new project.
Managing project SOW in spreadsheets
Whenever you create a new project in Fuzen, it is created along with a Google spreadsheet titled 'Task List'. The project SOW is created and managed in this Task List sheet.
The task list will be created from your own standard task list template. So the starting point for any project is the same. But then you can edit the task list spreadsheet to change the activities, their priorities, budget, timelines etc.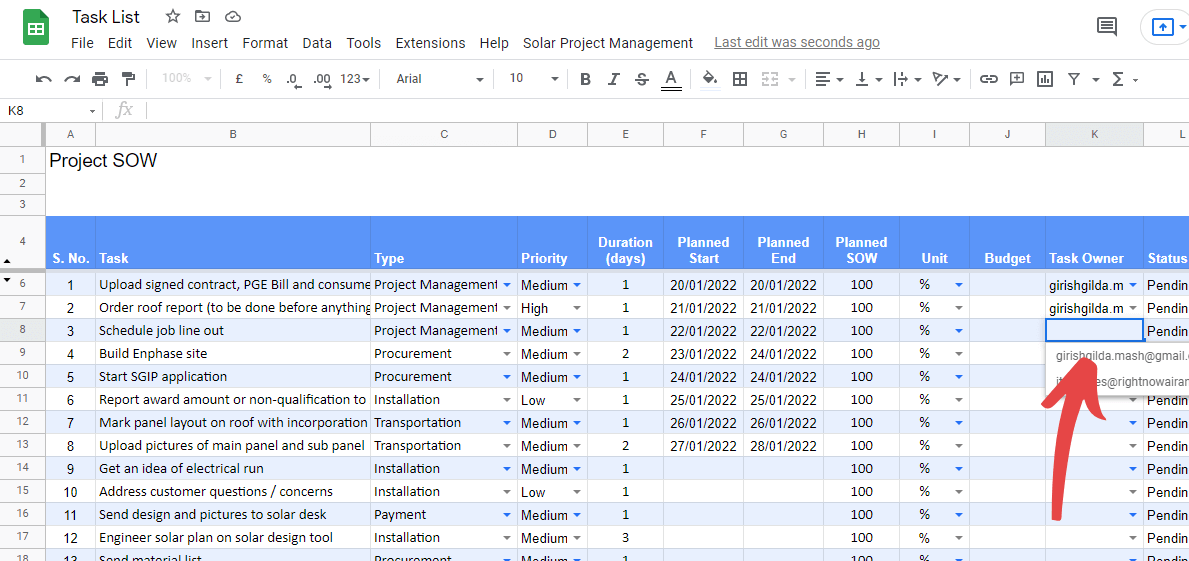 You can also remove, add, edit any columns in the spreadsheet to change the project SOW structure. This gives you all the flexibility that you have in standalone spreadsheets.
Automated progress tracking
But the difference in working with standalone spreadsheets and Fuzen is the connectivity. All of these 'Task List' sheets with Fuzen's project management app are connected to project management workflows.
Progress tracking
All the task list sheets are linked to a project dashboard where you can select any activity and update the progress, costs, material usage, labor utilization etc. for that activity.
All their inputs, progress data and cost numbers are seamlessly interlinked by Fuzen's project management workflows.
Daily reminders
In case any team members forget to update their inputs on the project dashboard, Fuzen will send them email and whatsapp reminders asking for those updates.
Role based access rights
But all these progress updates are submitted on Fuzen's project dashboard, without giving your team direct access to the Task List spreadsheet. Fuzen also ensures that any team member is only able to access the parts of the project dashboard that they are authorized to do.
This will ensure no one can accidentally delete your project data.
Reports
This level of connectivity ensures your project activities are tracked at the ground level. Every member of the project team submits their inputs directly on Fuzen dashboard, instead of going through the project manager.
Fuzen tracks progress, costs, material movement and manpower utilization. You can monitor all this data with insightful reports.