The competition in solar installation space had been steadily rising. Due to the low entry barriers, there are many new solar installers, leading to heavy competition and shrinking margins. In this guide, we will explore digital marketing tactics for solar companies to reduce the customer acquisition costs and win over the competition.
Solar PV installation projects are done on a wide variety of scales.
Utility scale solar farms – with capacities in the range of few hundred MW to GW.
Industrial rooftop solar projects – few hundred kW to MW range.
Commercial / residential rooftop solar installation projects – the smallest projects, for installing solar panels on rooftops of commercial and residential buildings.
The residential and commercial rooftop solar projects are smallest in size, require less capital and much lower risks. Naturally, most new solar EPC businesses start their operations doing this type of projects.
Heavy competition
Lower barriers to entry in the rooftop solar market has given way to intense competition. As a result, the market economics has put a lot of pressure on the profit margins of these solar installers.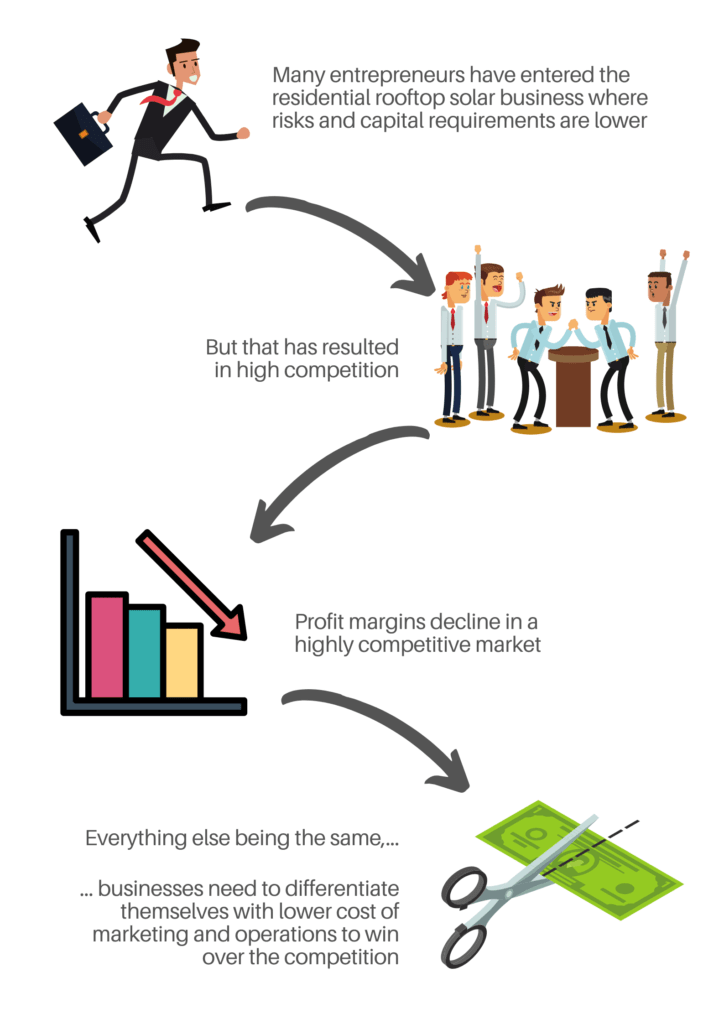 So in the face of this competition and shrinking margins, solar installers need to be innovative and cut costs. This cost cutting is possible in two ways –
Use efficient project management processes to reduce operational costs
Cut customer acquisition costs with the help of digital marketing to promote your solar business
Efficient solar project execution
A typical rooftop solar EPC company executes many small scale projects in parallel. These projects may not be highly complex, but they need to be regularly tracked to ensure their timely completion.
Project tracking with automated workflows
So the common challenge for a solar EPC project manager is to keep track of many projects going on at different sites at the same time. Most of the time of a project manager is then spent in visiting different sites to keep track of actual progress, material inventory, labor resources, work quality etc.
Make your project managers more efficient by making it easier to track different projects. Mobile apps connected to a central project tracking database will help them greatly to be more productive in the field.
Partnerships with PV panel suppliers
PV panels are the most expensive items in the solar EPC BOQ. Even small differences in the PV panel pricing can make or break your overall project margins.
So try to partner up with distributors of good quality panels. If you build a good relationship with the distributors in your area and give them assured business every quarter, you can expect discounted prices from them. That will surely relieve some pressure.
Digital marketing for solar companies
Digital marketing is a great way for solar companies to reduce their customer acquisition cost to fight the shrinking project margins. Digital marketing is a broad category though – comprising of content marketing, social media promotions, email marketing and online advertising.
It is precisely this diversity of available channels that makes digital marketing so effective for solar companies. As there are multiple channels, you can always be sure to find one to suit your marketing budget and target audience.
Now let's look at how these different channels compare to each other.
Email marketing
You can use email marketing to promote different types of solar companies. Residential rooftop installers target individuals (B2C marketing). They use email marketing newsletters to build a following online and eventually turn their followers into customers.
On the other hand, commercial and industrial rooftop installers are looking for a B2B marketing tool. Cold emails are great for B2B lead generation. These companies use automated cold email workflows to get new B2B leads and grow their business.
Email marketing is one of the most cost effective ways to get new leads for your solar business.
Content marketing
Content marketing is a useful way to lower your customer acquisition cost, by educating your customers before they even buy from you.
Create good quality educational content around solar energy to educate the people and businesses in your area about the value of solar PV installations. If you provide them valuable knowledge, they start to follow your brand. Over time this following becomes a constant source of 'warm leads'.
Since these 'warm leads' are already sold on the value of solar PV, half the job is already done. When your sales team meets with them, they will only need to pitch the commercial details.
Over time content marketing will turn your sales and marketing process incredibly efficient.
Social media marketing
Social media platforms like Facebook, Instagram, Twitter, Linked In, etc. are a great way to acquire leads. You can engage with the audience and educate them about the benefits of going solar by regularly posting content, sharing your knowledge, and displaying other customer testimonials.
You can also join online forums and groups related to solar energy and reshare your posts there to increase your reach. This will help you get more engagement and leads.
Additionally, offering discounts and incentives is a great way you can use to encourage customers to purchase solar panels.
Online advertising
Google Ads is one of the best ways to generate highly convertible leads. Here, you only pay when someone clicks on your ad, so it is highly cost-effective.
You can precisely target your potential customers based on their location, purchasing history, and interests and hence the chances of conversion drastically increase here.
By creating properly strategized campaigns, you will definitely get five times more than what you invested.
Another best way you can use Google Ads to your advantage is by creating retargeted campaigns. You might have a list of people who have bounced back from your website after filling out a form or who may have downloaded your eBook.
You can run a retargeted campaign for these prospects offering them an incentive or discount.
Retargeted ads can prove to be more effective in maximizing your conversion as the leads have already shown their interest in your product or service.
Wrapping up
Due to the increasing competition, solar companies need a strong digital presence in order to succeed.
Digital marketing is definitely the most beneficial and cost-effective way for solar companies to acquire new customers. However, to make the most of it, you need to learn how you can use different online platforms strategically.