Before you even start the execution of a solar PV installation project, you need the following info about the project site –
Is there enough space for solar installation?
What is the shadow free area? What is the average sunlight around the year?
What is the orientation of the building? Accordingly, what would be the azimuth angle?
Current electrical infrastructure – sanctioned load, current connection etc.
The average and peak requirements for the customer
All this information is gathered by doing a site survey for the planned solar project. Typically for smaller projects, a detailed site survey is done even before you get the order for that project.
That's why site survey is an integral part of the whole solar PV sales process.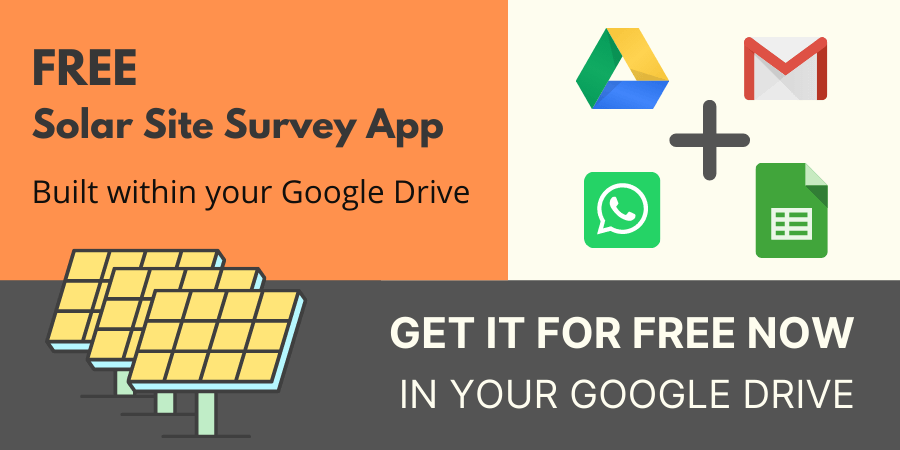 Site survey documentation
The sales process for solar PV projects is different from other more typical sales cycles. For solar project sales, you need to gather a lot of documentation, site photos, measurements etc. in addition to the basic customer details.
In a typical solar sales process, you collect customer's contact details, their requirements, budget, purchase urgency etc.
But in case of solar PV sales, you also need to collect site photos, electricity bills, site measurements etc. In some cases, you even need to perform basic engineering design for a site, to prepare a detailed technical proposal.
In addition to the basic customer details, you also need to track following documentation –
Electricity bills, single line diagram
Site photos
Measurements
Selecting a CRM for solar sales process
Typically, you would manage the customer data in your CRM software. In case of solar PV sales, you also need to manage a lot of documentation in the CRM.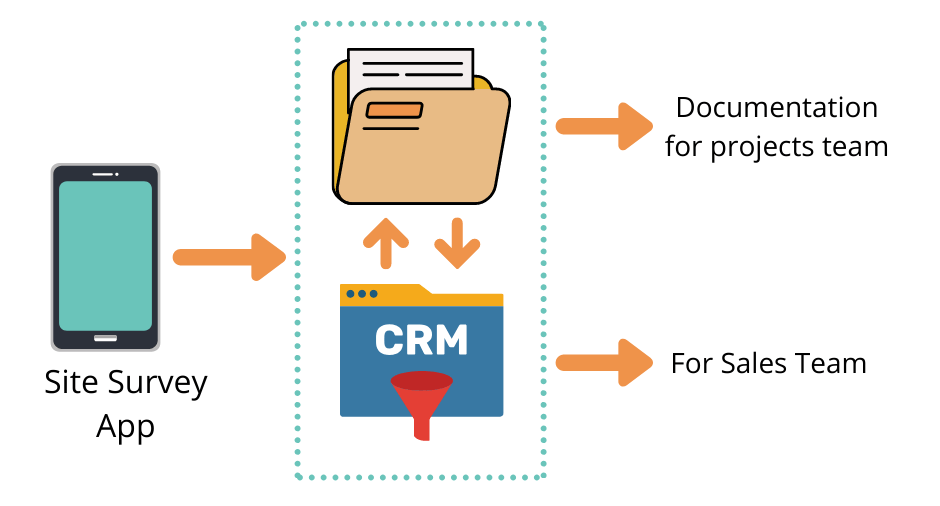 Correspondingly, you should use a CRM software for your solar PV sales, having robust document management functionality.
Moreover, documents and measurements gathered in the site survey are used by the engineering and project teams to create a proposal for solar installation. So your CRM software should also allow easy collaboration for the solar site survey reports.
Rooftop solar site survey app
Most rooftop solar PV installers do a large number of small scale projects (a few kW capacity). That's why a typical rooftop solar sales team has to do a large number of site surveys on a regular basis.
Usually, they do this along with the first customer meeting. When they meet the customer for the first time, they collect the required details – budget, requirements, bills. Then they do a site survey to take photos with their mobile phones, note site measurements, create a rough sketch etc. A mobile friendly site survey form or app can be very helpful to easily manage all the collected documents and files.
Having a mobile friendly app to record all these details can greatly speed up the process. Further, integration of this site survey app with the CRM helps in smooth collaboration between sales and project teams.
Additionally, all the details that you capture via a site survey app are saved in a central database. So you can easily retrieve them at any later time.

Technical capabilities of the sales team
Since the site survey is such an integral part of the sales process, your sales team needs to be technically capable to perform these site surveys.
So your sales people must be capable of building and managing relationships with the customers, as well as capturing technical details of the site surveys.
Usually, it is easier to train sales people to do the technical site surveys. Customer relationship management is a skill that may not come easily to everyone.