The first and foremost goal of any email marketing campaign is to get your audience to notice your products and services. Of course this will only happen if your email lands in their inbox (instead of a spam folder) and they read it.
That's why any email marketer would know that getting past the spam filters and landing your emails in inboxes is just as important as creating a beautiful email with interesting content.
It is a bit challenging to B2C marketing campaigns to land in inbox instead of spam or promotions folders. But, B2B marketers can take advantage of their smaller mailing lists to run drip email campaigns that can get around spam email filters.
Table of content
1. Mass Email Vs Drip Email
2. Automating Drip Emails
3. Email Marketing Automation Tools
4. Using Google drive for email marketing automation
5. Advantages of using Google apps for email marketing automation
6. A marketing automation tool built with Google apps
Mass Email Vs Drip Email
A regular mass email campaign is where you send thousands of emails to everyone on your mailing list, at the same time. Spam filters can notice this and classify these emails as spam.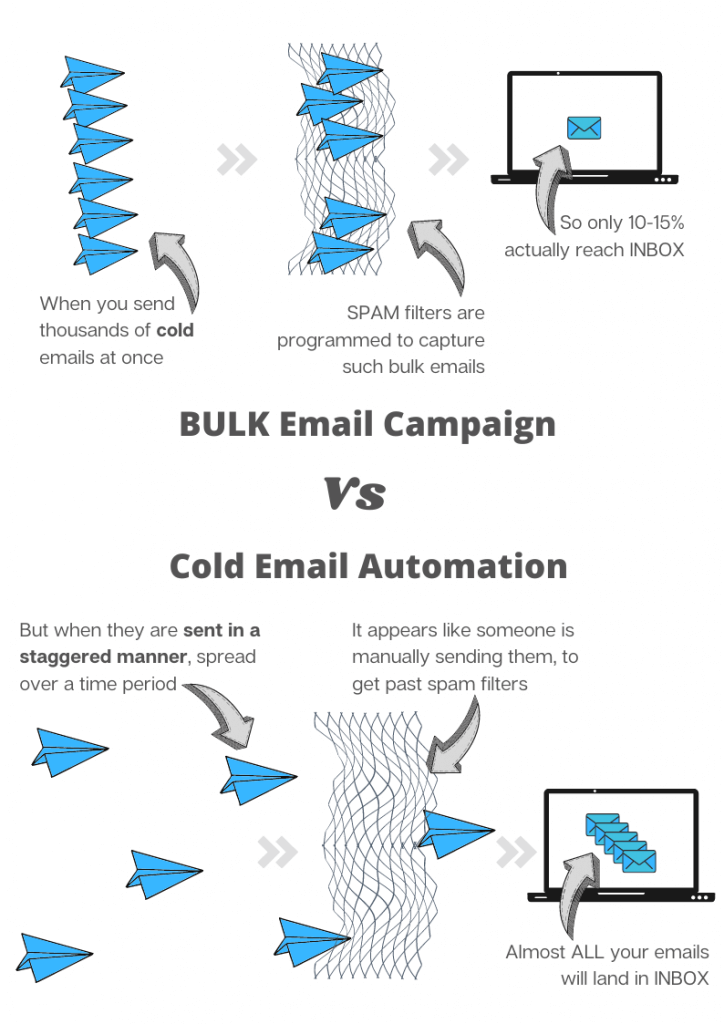 To get around it, you can simply change the way your emails
are sent. You can send your emails a few minutes apart and restrict it to a few
emails per day. So you are dripping your emails one at a time instead of a
deluge.
If your emails are not going out in bulk, there is no reason
for the spam filters to put them in spam folders.
This is a very powerful email marketing tactic for B2B
marketer. May not be so practical in B2C cases, having thousands of recipients
in a mailing list.
Automating Drip Emails
The simplest way to send drip emails is to manually send
personalized emails to all your prospects.
But why spend time and efforts for writing (or even
copy/pasting) emails, when there is technology available to completely automate
this process for you.
An online marketing software can help you to –
Automatically personalize your email content
with details about the recipient
Schedule your emails to be sent at the perfect
day and time of the week
Drip your emails one by one during the scheduled
time window
Measure the success of your email campaigns
With the help of such automation, you can simply go back to
focusing on creating the best design and content for your marketing emails.
Let the marketing tools take care of mundane technicalities
while you can focus on the creative part.
Email Marketing Automation Tools
A simple Google search will give you names of scores of online marketing software packages that can help you automate your email marketing campaigns.
Most of these tools are useful only for marketing. But
ideally, you would also want the leads generated from your marketing campaigns
to connect with your CRM. Furthermore, you should also aim to measure the
performance of your marketing campaigns based on how many of the leads get
converted in sales.
Basically your marketing tools would be much more valuable if they can connect with other tools like, CRM, sales tracking, website analytics etc.
One option is to integrate your marketing software to other
platforms. You can do this with the help of APIs or with a paid tool like
Zapier. But that will require some more time and money investments.
So you end up paying for –
A marketing software
Integration services
Third party tools like Zapier
Using Google drive for email marketing automation
Another alternative to a complex marketing software, is to use simple Google tools like Google sheets, docs and Gmail to build your own simple marketing automation workflow.
A simple program written to connect these Google apps can
centralize your –
Mailing lists – maintained in Google sheets
HTML email templates – created with simple
Google docs
Emails – send using Gmail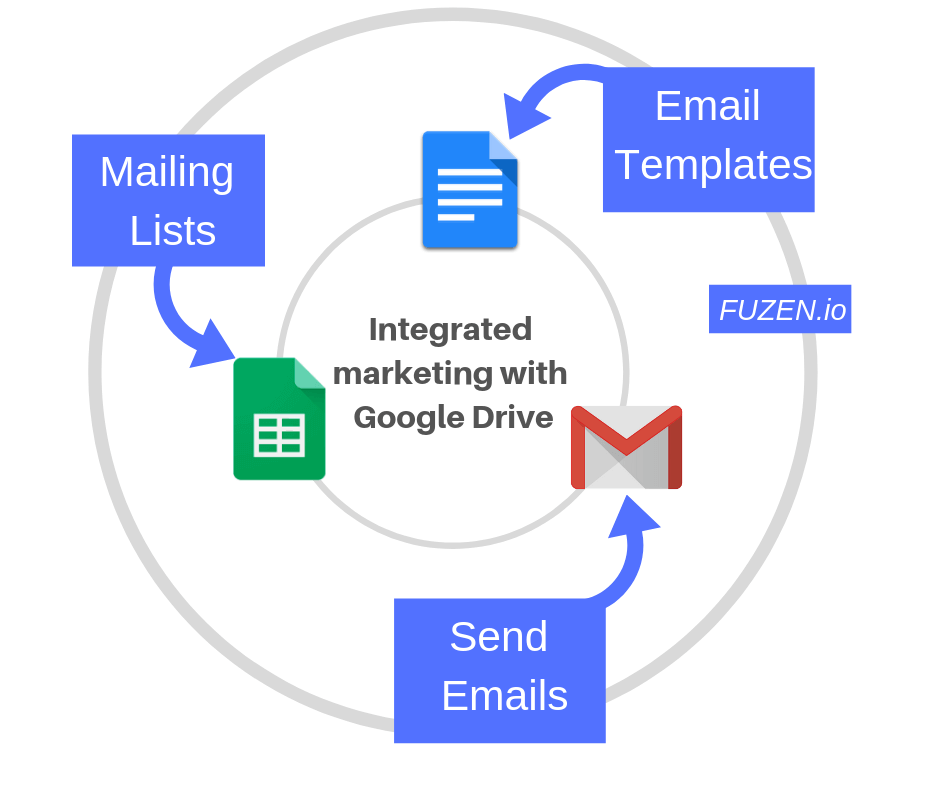 Advantages of using Google apps for email marketing automation
Using google drive apps for your email marketing automation offers a few advantages over other marketing software tools.
Google apps are simple to use more robust and more flexible
For example, consider how easy it is to manage your mailing list using a Google spreadsheet, compared to other tools. With Google sheets, you can copy/paste, edit, delete, select, drag data with ease.
It is much easier to integrate Google apps with other platforms like CRM
Many leading software tools have
built in integration with Google spreadsheets, docs and Gmail. Even if you need
to create new integration workflows, they can be created quickly and for lower
costs with tools like Zapier.
Another interesting option is to
improvise your Google drive to function like a CRM. This way you will have all
your marketing and sales tracking tools connected on a central robust platform.
Google drive tools are cost effective
For the most part, Google apps like
sheets, docs and Gmail are free of cost. Or they are at least much cheaper than
other paid alternatives.
Better ownership of your data
You have much better control over
the marketing and sales data that is sitting in your Google drive than on any
other 3rd party server.
A marketing automation tool built with Google apps
Now that we can conclude how effective Google drive can be
for email marketing automation, next question becomes – how do we actually do it?
This is where Fuzen can help you.
Fuzen has a library of user friendly, cost effective business solutions built around Google drive apps.
You can use this mail merge tool connected to Google sheets and docs to send highly personalized emails with automated scheduling. It creates a powerful cold email marketing workflow within Gmail – also connected to Google sheets and docs.
Because Fuzen has Google Drive to do most of the heavy lifting, it is a cheaper, lighter and user friendly alternative to mailshake.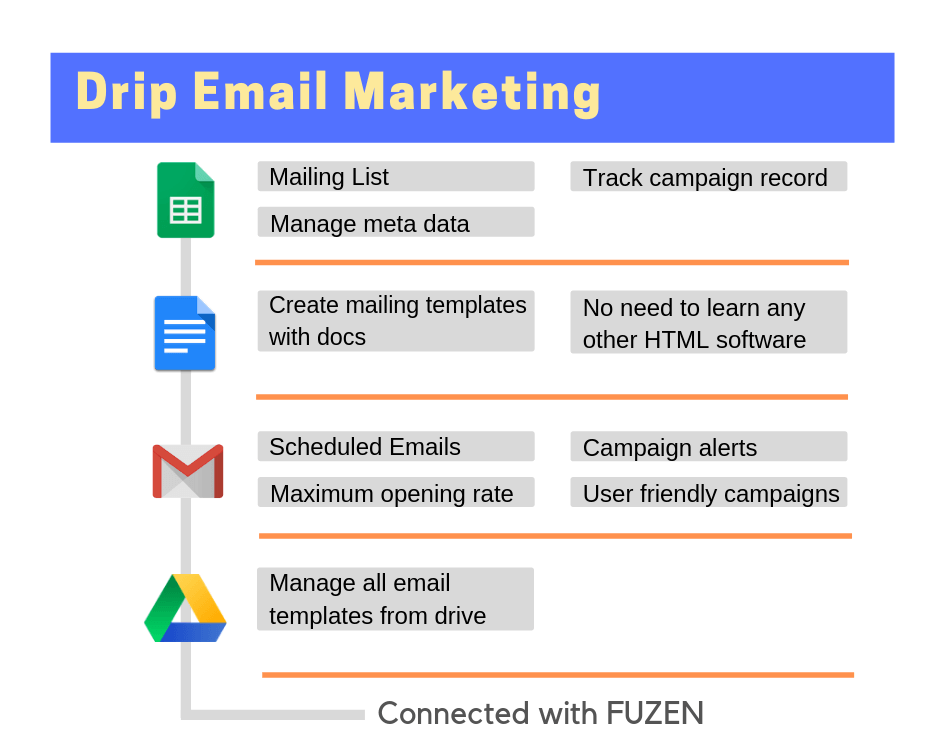 Using this tool is as simple as using a spreadsheet or document, leaving the technicalities of integration and automation to Fuzen.
To try out how it works, log into Fuzen with your Google
account and add the 'Drip Email Marketing' solution to your Fuzen dashboard.
If you need any help with getting started, let us know. Our team will help you out.