Fuzen helps marketers to create simple, cost effective solutions by connecting their favorite tools. This post demonstrates exactly that, by creating a customized marketing automation solution with Google Drive.
Online marketing has been around for quite a while now. Even as new marketing channels like social media, video content, chatbots have emerged, older channels like email marketing, websites and Google ads are still very strong.
Every passing day thousands of new people are connecting to the internet, giving a very strong reason for marketers to focus on online marketing .
Another strong reason to invest more dollars in online marketing campaigns, is how you can use automation to maximize the returns on your marketing dollars.
Online marketing channels present an opportunity to know your audience and then have a meaningful dialog with them. For example, social media following, likes, online searches etc. are very strong indicators of interests and behavior – at the very granular level.
Correctly leveraging this information will greatly improve your messaging and content, to make your marketing campaigns extremely effective. You will get every marketing dollars' worth when the right message reaches the right intended audience.
For example – you can track how different people in your mailing list respond to an email campaign and correspondingly decide how to send the next batch of emails. Sending cold emails only to those who are more likely to read them will greatly improve the performance of your campaigns, minimizing the risk your cold emails getting marked as 'SPAM'. Over time it will result in improved engagement with your audience.
Next, you can also segment your audience and send different messaging to different 'segments' in your mailing lists.
Need for automation in online marketing
When you target thousands or more leads through your marketing campaigns, it is simply not practical to manually track their behavior and response to your campaigns.
But, since all the relevant information (like email opening, clicks, purchases etc.) is in digital format, it is easier to let a marketing automation software analyze that data. Based on this analysis you can then shape your future marketing campaigns. Or better yet, design workflows so the same software can decide what steps to be taken in the light of how past campaigns have performed.
There are a number of online marketing tools that can help you in automating different parts of your marketing processes. A variety of marketing apps will help you to automate certain parts of your social media outreach / email marketing / online advertising / customer onboarding etc.
But the effectiveness of these marketing apps will depend on
the complexity of automation or workflows that you want to create.
If you use many different marketing apps, they may not even connect with each other easily, making it harder to automate certain workflows.
But there is an easier route to connecting different marketing tools while also simplifying them. A simple mail merge tool combining Gmail, Google Sheets and Docs can be used for this purpose.
Google drive apps used as marketing automation software
You will realize just how powerful the basic Google apps are, when you think of how they can help in managing and automating certain marketing processes.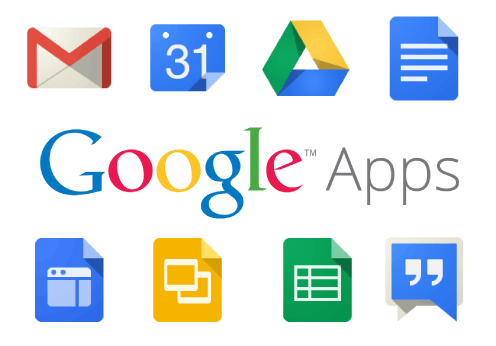 Gmail is a very powerful and very popular email client to help you in creating, sending, scheduling and organizing your marketing emails.
Google Forms are super easy to create and deploy. They will help you in quickly setting up forms for lead generation, feedback collection, newsletter registrations etc.
All the data gathered from Google forms and elsewhere is easily managed in Google sheets. They are very easy to configure and ready with more than a handful of functions to build customized workflows for managing your marketing data.
Google Sites are easily created, immediately deployed and give you beautiful looking façade – to embed your forms, for example.
Google Drive and Google Docs enable easy management of your marketing documents and data.
Example – Fuzen's drip email marketing solution
For example, consider a 'Drip Email Marketing' solution created on the Fuzen platform by connecting together –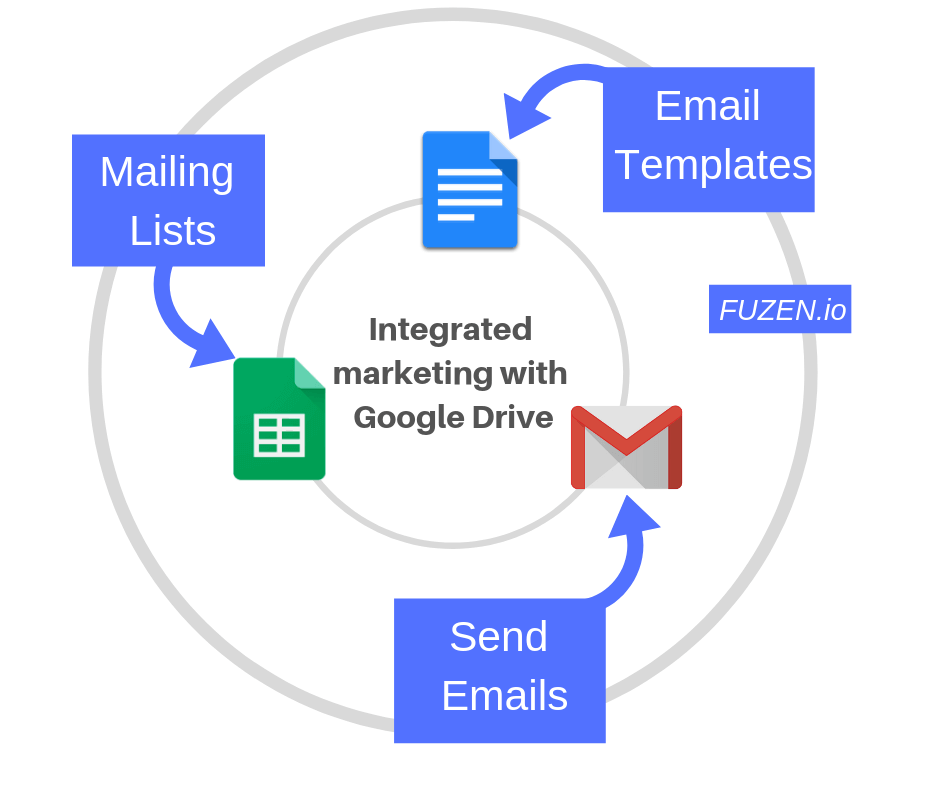 Google sheets – for managing mailing list and tracking progress of a campaign
Google docs – to create HTML marketing emails,
without any need to know HTML
Gmail – to schedule and send your marketing
emails
Fuzen adds some more magic to the Google apps via a custom workflow, turning your Gmail account into a marketing tool. This tool is then used for spreading your emails over a period of time and dripping them to mailing list, instead of mass emailing. This email marketing workflow has used B2B marketers to ensure 50-80% higher opening rates and much better engagement with their prospects. This mail merge tool is a simple, lightweight solution which combines the strengths of Google Sheets and Docs with Gmail.
Because Fuzen has Google Drive to do most of the heavy lifting, it is a cheaper, lighter and user friendly alternative to woodpecker.
Similarly, you can also build powerful and customized marketing apps with the help of Google drive apps. Alternatively, you can browse the different solutions that are already available in catalog. You can also get in touch with us to request for a customized marketing solution and our team can build that for you.