Construction project management involves monitoring and control of multiple aspects – progress, costs, quality, etc. Therefore any template for construction project management report also has to be multi-dimensional.
Table Of Contents
1. Parameters to be reported
1.1 Planned Vs Actual Progress
1.2 Budgeted Vs Actual
1.3 Overall project health
2. Spreadsheet template for construction project management report
Parameters to be reported
The number one job of any project manager is to keep track of project progress, and costs and to make sure they don't go over the original planned/budgeted limits.
Therefore a holistic construction project report template must give us an up-to-date picture of progress and costs.
Planned Vs Actual Progress
Ensuring the project's timely completion is a crucial responsibility for any project manager. Therefore he must track the planned Vs actual progress all the time.
So our project management report template should compare the planned timelines with the actual timelines of all construction activities.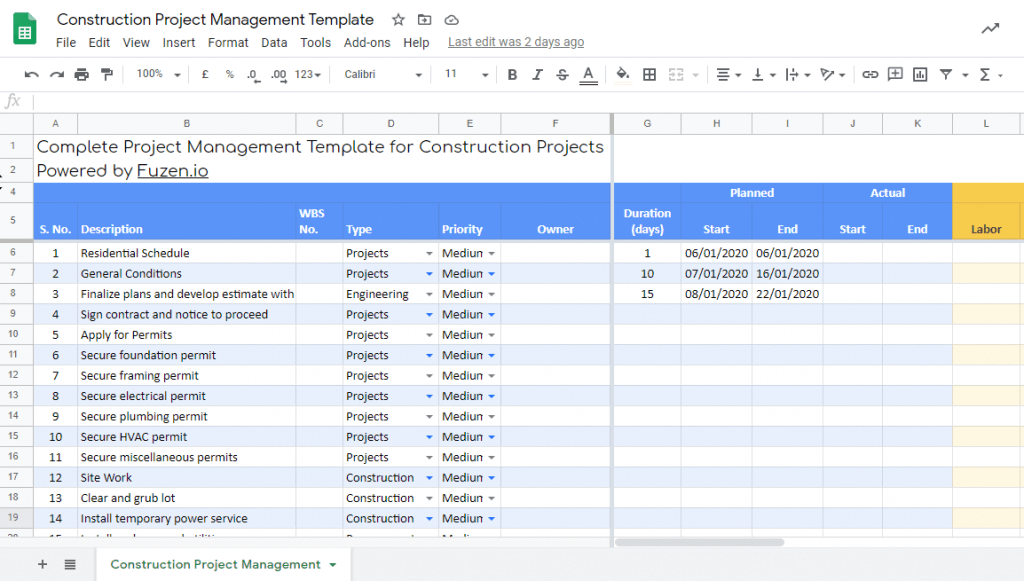 Planned progress timelines would normally come from a Gantt chart created in MS Project or Primavera. Many different spreadsheets often track actual progress values, such as the Master Deliverable List, Daily Progress Reports, Material Tracking Sheet, and Labor Tracking Sheet.
Our centralized project management report should be able to link up with all these sheets for reporting purposes.
Budgeted Vs Actual
The other important responsibility is to maintain the actual spending within budgeted values.
Each construction activity requires labor and material resources. At times, a fixed cost scenario occurs, such as outsourcing work to a subcontractor at a predetermined price. All of these costs are budgeted for at the beginning of the project and available in the construction budget spreadsheet.
Whereas the actual costs are often tracked in ERP software, purchase orders, cost control spreadsheets, etc.

A construction project report template should compare the budgeted vs actual cost by pulling together data from these different sources.
Overall project health
Finally, there should be an easy way to compare the "planned Vs actual progress" and "budgeted vs actual cost". We should have a bird's eye view to tell us about the current status and health of the project in terms of schedule and budget.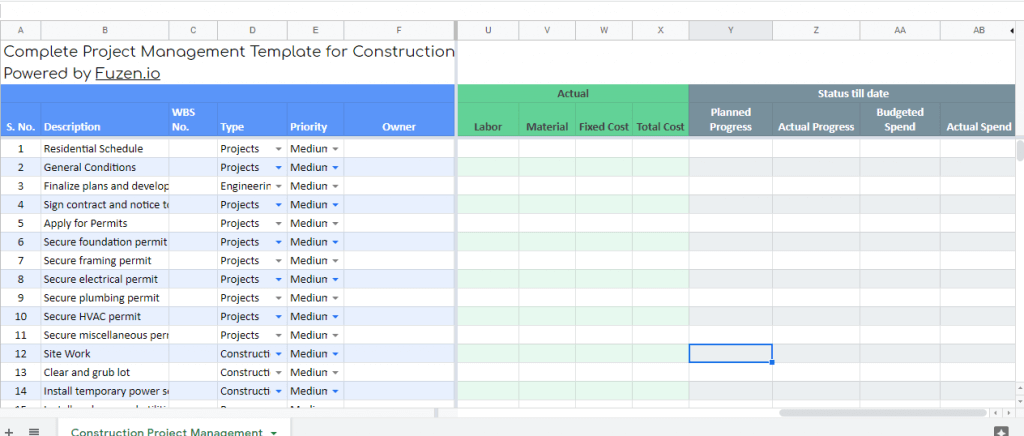 Labor Utilization
For bigger businesses, optimal labor utilization is also an important factor in project management. Well-experienced project managers can very well predict the labor requirements on different project/construction sites as per the project schedule while anticipating the usual hiccups in the construction project life-cycle.
But even if you don't have decades of construction project management experience. You can still build your construction schedule with labor requirements attached to individual activities and then factor in contingencies in this schedule.
You will need a dashboard that captures the actual labor utilization and forecast manpower requirements as per the schedule.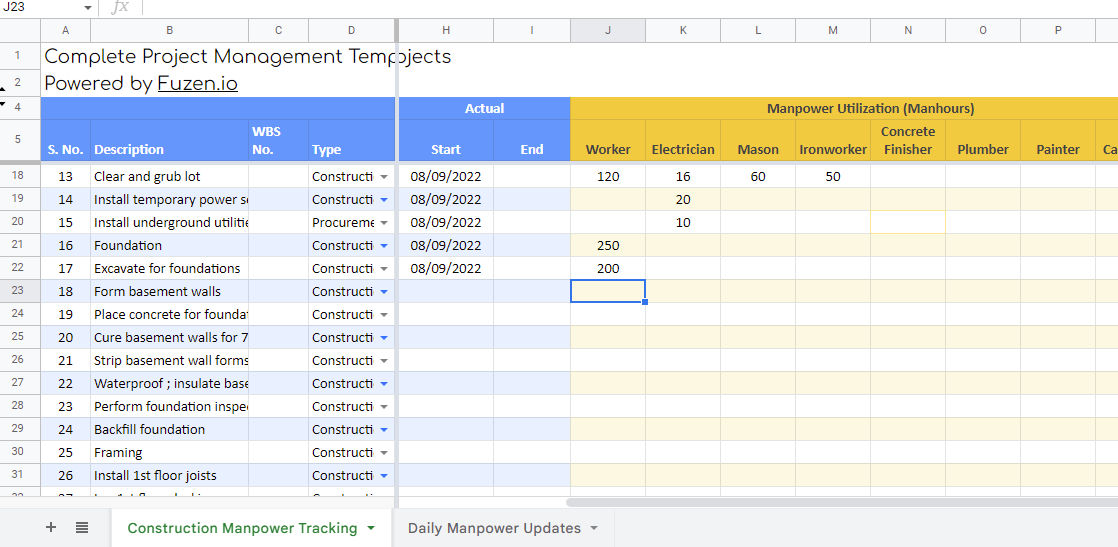 This kind of detailed manpower utilization report would be possible only if your site engineers sent regular updates on labor usage for different activities. You can use the following format for regular manpower updates from the site.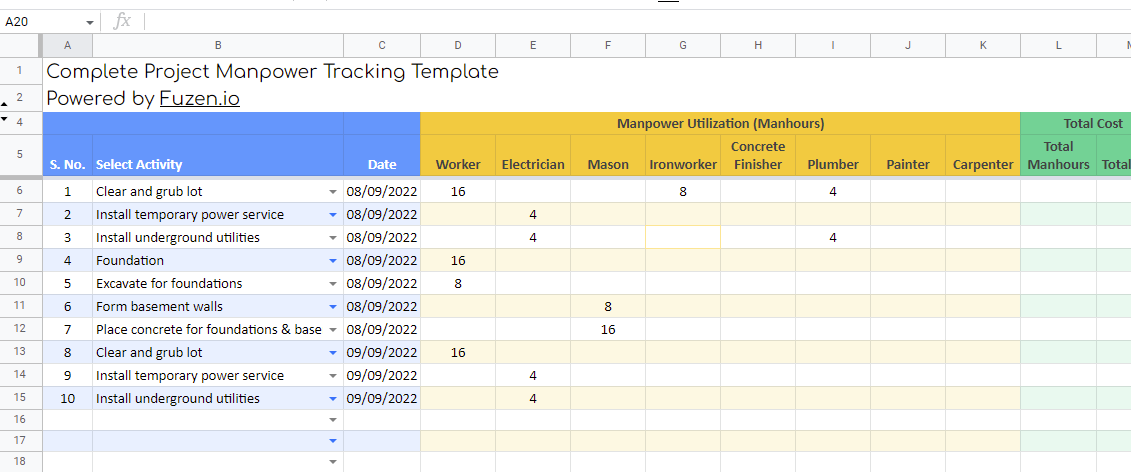 Material Tracking
Timely availability of required material on site is very important to keep your projects moving along. When certain materials aren't provided on schedule, your labor might end up sitting idle during those days. Ultimately damaging the productivity and overall health of your project.
That's why connecting your procurement team to your project management system and enabling them to update the latest material purchase and dispatch details in the system is crucial.
Finally, you will need a dashboard to track the latest movement and status of important material items.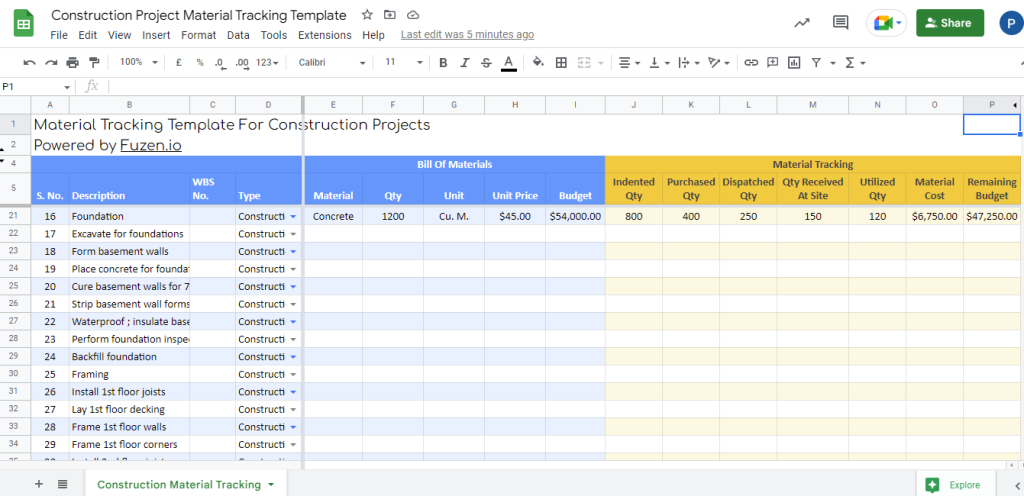 This particular report template helps you to track not only the budget and actual costs of your material items, but also the movements of those material items as they are indented, purchased, dispatched, and received on-site.
Excel spreadsheet template for construction project management report
Ideally, a construction project report should be able to link up with multiple tools to present the following project parameters in real time –
Project schedule in Gantt chart or spreadsheet format
Budget spreadsheet
Daily progress report sheets
Material and inventory tracking sheets
ERP; if it is used for procurement and payments
Most of this data can be presented in spreadsheet format, simplifying its consolidation into a central spreadsheet for reporting purposes.
Using a spreadsheet report template also provides the flexibility required in a construction project. Construction projects differ a lot from each other based on their scale, size, complexity, type of work, etc.
Correspondingly, the report template should also be easily customizable depending on the scope of work for the project. This kind of flexibility is easily possible in spreadsheets.
That's why we have created a spreadsheet-based template for construction project management reports. You can easily customize this template based on your needs and desired formats.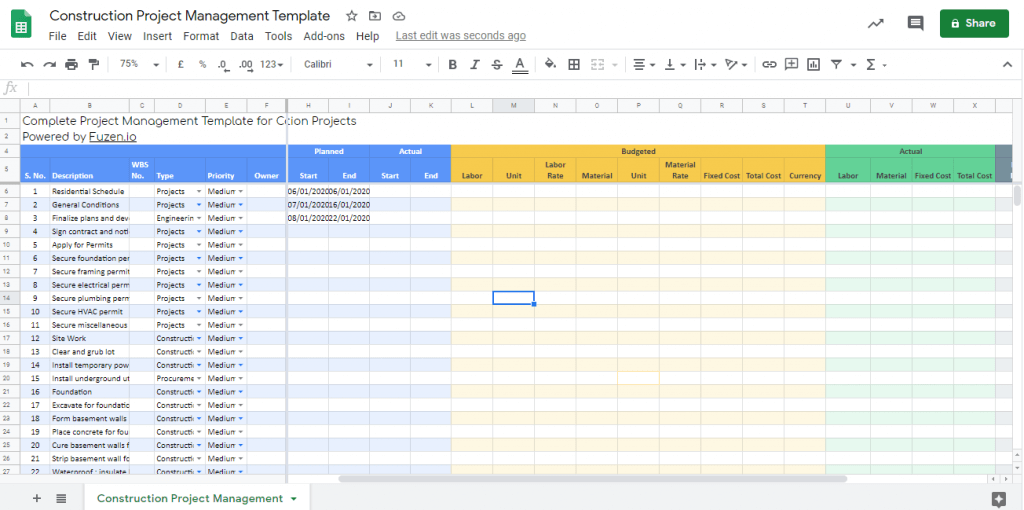 Moreover, you can use this template in a Google spreadsheet to easily connect with other tools and spreadsheets used for managing your project. Connecting your construction project management tools in Google drive brings a lot of easy connectivity to the project management processes.
Here is a construction project management solution that connects all your important project management tools – schedule, scope of work, budget, material & cost tracking, etc. to finally report the overall project status and health on a centralized report.
You can customize this solution to suit various industry verticals. For example, here's a customized solution for managing solar installation projects.
Click here to try it for free.