Infrastructure project managers often look for different ways to automate progress monitoring in construction projects. Automation is very helpful for –
getting the real time visibility of how things are moving on different construction sites
ensuring that the project adheres to schedule, cost and quality goals
minimizing the project delays and cost overruns
There are many ways to automate progress monitoring in construction projects. Let's look at the easiest yet effective ways.
Factors to consider for progress monitoring in construction projects
Any construction project involves a lot of team work. You need to enable collaboration between – architects, design engineers, project managers, site engineers, store managers etc.
For progress monitoring, we need to connect all of them to a central platform where they can send progress updates on regular basis.
However any tools used for progress monitoring in construction projects has to satisfy some basic requirements –
Simple and lightweight UI
Most people find it burdensome to frequently fill out progress update forms in addition to doing their actual work. This burden is compounded if the user interface (UI) is complex or too heavy.
That's the main reason why people prefer to work with simple spreadsheets rather than complex tools like ERP.
Easy access
Not all of the project work is executed within an office environment. For example – in construction projects, most of the work happens on the construction site. That is where the project team spends most of their time.
In such cases, we will need project management tools that can be easily accessed from outside of the office, on mobile devices.
Connect with other tools
Apart from connecting different people on the team, we also need to think about connecting their work. Different project activities are managed using different tools – Gantt charts, Excel Sheets, CAD software, ERP tools etc.
We need to connect all these tools used in construction projects, to enable automated progress tracking.
Construction progress monitoring software
A decade ago, most construction project managers heavily relied on spreadsheets, emails and shared folders to coordinate with their team and to keep track of their work.
Only the very large and very complex construction projects used sophisticated ERP systems.
However, this changed dramatically after the smartphones came out. Software companies developed mobile friendly tools that enable progress reporting, issue management, QA/QC directly from the construction sites.
Some popular examples are – Aconex, Procore, Plangrid etc.
But still, many smaller construction projects rely on spreadsheets, emails, calendars, Google forms etc, because these simple tools offer a lot of freedom and flexibility.
Smaller project teams want the freedom of working with simple tools like spreadsheets, emails, folders, forms etc. But then the trade-off is that these tools are not connected to each other. Without inter connectivity, it becomes nearly impossible to get an insightful view of what is actually going on different projects.
So, what smaller construction teams need is an easy way to connect their spreadsheets, emails and forms with custom workflows instead of a clunky, feature heavy app.
Automated workflows to connect spreadsheets, emails, forms
If you manage a construction project, you know the importance of customized workflows. Each team has its own unique work culture and style. Most teams want to replicate the same work practices in online automation as well.
The easiest way to do this is to connect your custom spreadsheets, reporting templates, forms and emails with customized automation workflows.
Google Drive allows easy integration of these tools with their API. You can also use other tools like zapier etc.
OR you can opt for a fully customized construction progress monitoring software from Fuzen.io, where your own workflows can be easily incorporated in a fully functional app, instead of spending your time and resources on configuring hundreds of zaps.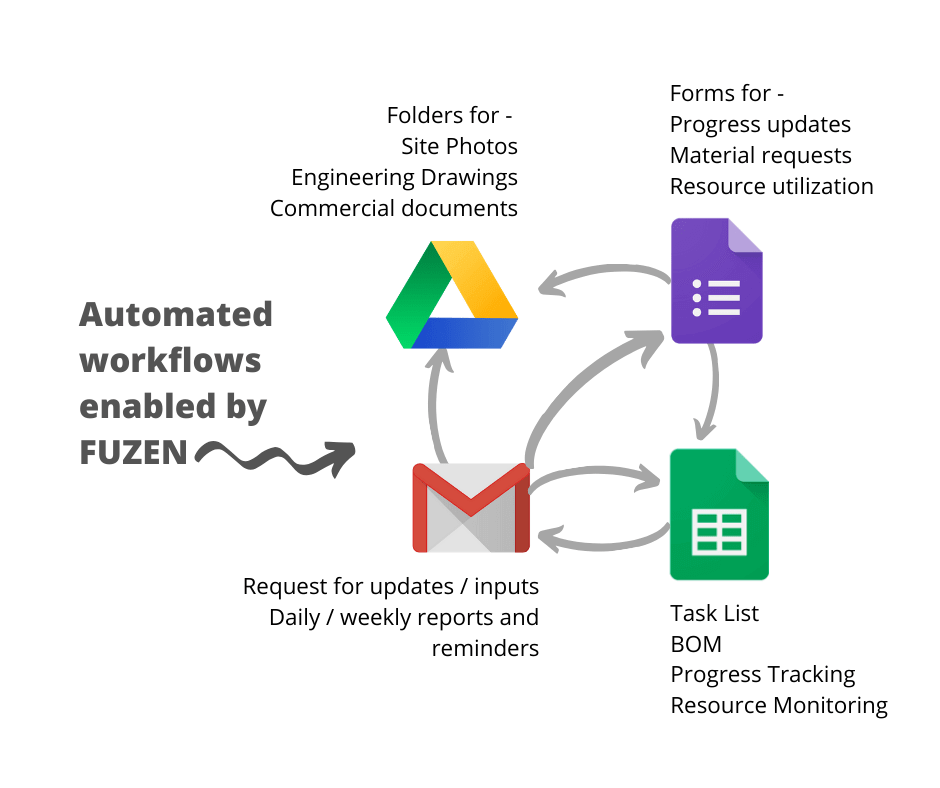 Let's take a look at what kind of functionalities you can expect from each of these building blocks of your automated system.
Spreadsheets
Different spreadsheets help you to track different work items in your construction project.
Task List – to track all project activities, work breakdown structure, timelines for main project activities
Bill of Materials (BOM) – manage all the items that need to be procured for the project, along with their quantities and costs
Progress tracking sheet – to keep a track of actual progress achieved against the planned timeline of each task
Resource monitoring sheet – monitor the labor and material resources utilized in different projects / different sites
Forms
Use customized forms for getting all kinds of inputs / updates from your team members. Here are a few examples.
Progress update form – for daily progress updates from the construction supervisors
Material requisition form – to submit material requirements, as and when they surface on different sites
Resource utilization – for tracking the usage of labor and material resources for different activities of a project
These are just a few examples. In reality, you would have many different form configurations that can be used.
Folders
It is typically preferred to organize folders to enable easy access to different groups of people within a team.
For example, you would create different folders for site photos and engineering drawings to provide common access to site and engineering teams respectively.
Emails
Automated emails are used for 2 main purposes.
Requesting the progress updates or any other inputs by sending an online form
Sending daily / weekly reports with insights about what is happening in different projects.
When all these elements are stitched together with customized workflows, what you get is a very user friendly and flexible construction progress monitoring software.