The markets are always evolving and people are constantly on the go. No matter in which industry you work in, chances are there is a lot of competition. Marketing automation can help you to rise significantly over your competition. But before you decide which automation tools to use, let's discuss the benefits of marketing automation.
Table of content
1. What is marketing automation?
2. Why is marketing automation necessary?
3. Top benefits of marketing automation
3.1 Increase conversion rate
3.2 Scalability
3.3 Better customer experience
3.4 Save time
3.5 Lead nurturing
3.6 Drastically improve marketing campaign performance
4. How to use Fuzen tools to automate your marketing
What is marketing automation?
Marketing automation is using software as a leverage to automate monotonous work. Automation softwares can help marketers save a lot of their time when they are following up with leads and taking potential customers through the sales funnel.
Every organisation has the same desire i.e. to generate higher revenue and grow fast while keeping all the cost low. But most of them struggle to achieve these goals because they fail to align their people, process and technology.
Marketing automation software provides a solution to this problem by automating and streamlining all the marketing processes and workflows. It often works by integrating with a Customer Relationship Management (CRM) software.
Email marketing automation tool is used by marketers to send highly personalized emails. They can also schedule these emails and automate the responses. This becomes a highly effective tactic to generate leads for many organisations.
Why is marketing automation necessary?
In today's world, digital marketing has become an integral part of every business. Due to the advancement in this field of marketing, companies have started finding new and better ways to save their time and accomplish their task efficiently.
Marketing automation software have been developed and evolved to automate and streamline your digital marketing operations. This results in an acceleration in revenue of your business.
So what makes marketing automation superior to any other thing that can help you succeed in the business?
According to Nucleus Research, marketing automation drives more than 14.5% increase in sales productivity and a 12.2% reduction in overall marketing overheads.
A similar study done by Annuitas Group reveals that companies using marketing automation to nurture prospects see a 451% increase in qualified leads. Those nurtured leads, in turn, make purchases 47% larger than their non-nurtured counterparts.
Another survey done by Harvard Business Review found that leads are 60X times more likely to get converted when there is a followup within 1 hour compared to when they take 24 hours or longer. Regardless of your place, time or day, marketing automation can help you to track and engage with your prospects from the moment they connect with you.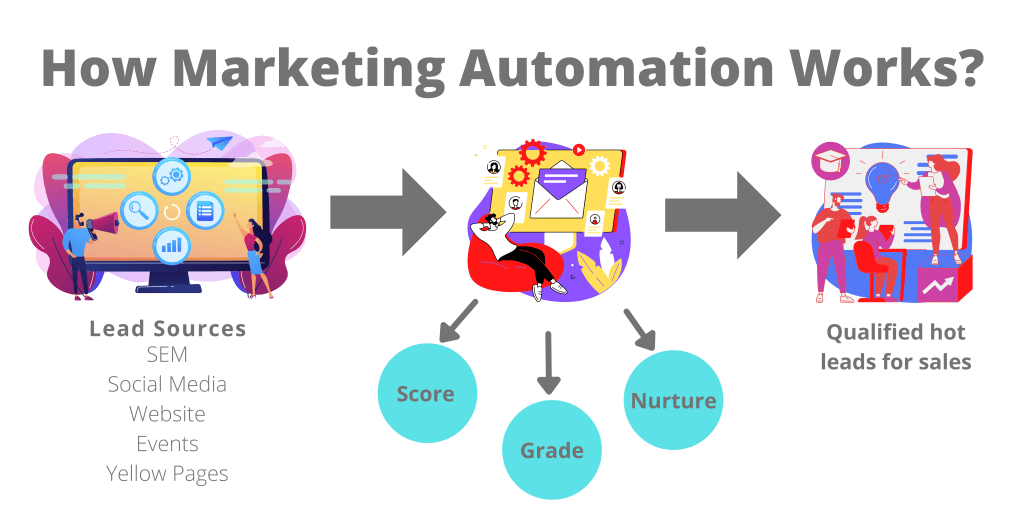 Top benefits of marketing automation
Increase conversion rate
Did you know that according to McKinsey & Company over 30% of the sales activities can be automated.
If you are a small business owner, you know that generating leads is crucial to your business development.
Marketing automation software can help you generate leads and manage them more efficiently. You can concentrate more on formulating strategies that can generate and nurture promising leads through automation between sales and marketing.
Those who have adopted sales automation early on consistently report sales uplift potential of up to 10 percent.
You can use Fuzen cold email automation tool to start running your cold email campaigns and significantly increase your conversion rate.
Scalability
Another benefit of marketing automation is that it helps you increase the scale and scope of your marketing campaigns. It's important to keep scale in mind whenever you set up your marketing process.
Also it goes without saying that automating marketing campaigns is more efficient than creating and sending them manually. You can create a comprehensive series of campaigns to increase revenue at every stage of the buying cycle.
Better customer experience
One of the key benefits of marketing automation is that it provides a better customer experience.
Obviously, the final goal is to make a sale, but there are many objectives that come prior to achieving that goal — and most of those objectives are related to creating a better customer experience with content and materials that are both educational and highly personalized.
Building better, more personalised marketing experiences for your customers helps you make more money. According to Econsultancy, 93 percent of companies see an uplift in conversion rates from personalisation.
Save time
One of the major benefits of email automation is that businesses can automate their regular marketing tasks quickly while saving time to concentrate on other marketing strategies.
By leveraging tools that expedite the "monotonous work" from our days, employees remain engaged and focused on what they do best—create revolutionary content and strategies that propel organizations beyond what they once thought possible.
Tools like drip email marketing can help you plan out your strategy, create a campaign, and let it run on automation. Whenever someone submits their email address on your website they'll automatically be added to your list and receive your pre-determined emails. That means you'll be contacting them with useful emails on a regular basis without even having to click the "send" button.
Lead nurturing
Without lead nurturing, you'll have a harder time converting leads to sales prospects. But manually nurturing leads can be difficult and exhausting. You can simply automate the entire process of lead nurturing using marketing automation tools.
Lead categorization can be automated using lead scoring and send personalized emails using email automation. You can also improve your follow-ups through auto-responders
Drastically improve marketing campaign performance
Before we think about using an marketing automation tool, it's important to first ask why? Because to be honest, automating your marketing can not always be effective.
Let's consider email marketing as an example.
As sending emails is so easy and inexpensive to do it, everyone does it. So there's a lot of noise and it takes a good bit of creativity to stand out from this noise.
Also you need automation software when you are sending cold emails to a bulk email list. You could argue that it makes sense to send all those emails at once, as a single bulk email. But this kind of bulk mailing tactic is often used by spammers. So sending a single massive email blast, puts you at risk of getting caught in spam filters.
Using a tool to schedule, stagger and personalize your business emails, will make the sending pattern seem human-like. That would help your machine generated emails to bypass the spam filters.
Fuzen's 'Cold Email Automation' app is a smart solution that mimics the email sending pattern of a human. Fuzen can boost the email deliverability and opening rate for your cold email campaigns by  300-600%.
How to use Fuzen tools to automate your marketing
Spam filters can smartly detect patterns of automated bulk emails. When you send hundreds of marketing emails with a bulk emailing software, there is a good chance those emails will land in 'SPAM' or 'Promotions' folders. Fuzen's 'Cold Email Automation' app is a smart solution that mimics the email sending pattern of a human.
Cold email automation workflows send your emails in a staggered manner instead of sending all of them at once. This 'human-like' email sending behavior helps you avoid the spam filters.
Fuzen cold email automation is ideal for B2B sales where you send tens to hundreds of emails in a day. It will help you build up and maintain a healthy sender reputation, so that your emails are well received by your customers. This software can boost your email deliverability and opening rate by almost 300-600%.