Construction projects are quite complex. As a construction project manager, you have to simultaneously deal with multiple types of construction activities – scaffolding, brickwork, excavation, flooring, plumbing, etc. Project managers often struggle when it comes to tracking the actual progress of construction activities and comparing those actual timelines against the original schedule. For this, we have prepared a construction progress report example to help you with progress tracking.
We have used excel to prepare a progress tracking report.
Why Excel? Because it's very easy to use and flexible. Most construction contractors use excel spreadsheets to prepare their progress reports for tracking data and performance.
Spreadsheet is the most popular tool for tracking and displaying all these numbers to present a comprehensive picture.
Table of Content
1. Why use a Progress Report Template?
2. Construction Project Progress Tracking Report
2.1 Project Duration tracking
2.2 Project Scope of Work (SOW) Tracking
3. Construction Project Daily Progress Tracking Report
4. Using S Curves for tracking construction projects
5. Maintaining the progress data
Why Use a Progress Report Template?
Using a pre-designed construction progress report example helps you save time and lessens the effort of reporting. All the important reporting fields are already laid out in the template. You just have to add all the specific details in the document.
The progress report is also a tool to communicate to your stakeholders and clients that the project is moving forward as planned. A progress report is an efficient way to find out if the project is going as per schedule or if there is any delay.
We at Fuzen have helped construction project managers from different industries to streamline construction project progress tracking and cost control.
This excel template is based on the best practices followed by industry leaders.
Construction Project Progress Tracking Report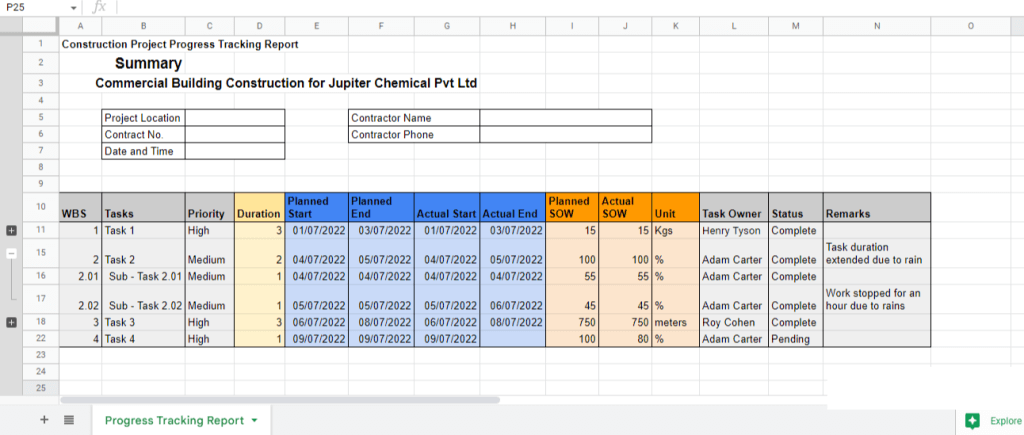 Project time tracking
There are different tasks like scaffolding, brickwork, excavation, flooring, plumbing, etc. involved while preparing a construction progress report. All these tasks represent the progress of the project.
Therefore it becomes important to track the start date of each task against the end date to analyse the progress.
The project duration tracking section help us to track tasks:
Planned start vs Actual start
Planned end vs Actual end
Duration
You can add different sub-tasks within each tasks. You can mention the priority for each tasks and sub-tasks. Priority can be High, Medium, Low. Mention the duration of each tasks i.e. the difference between tasks start date and end date.

Project Scope of Work (SOW) Tracking
Different tasks like scaffolding, brickwork, excavation, flooring, plumbing, etc. need to be completed for construction projects. Every task may have a different SOW.
This SOW needs to be tracked to monitor the progress of each project. The task is only completed when the Planned SOW is equal to the Actual SOW. Each SOW has a different unit depending on the tasks.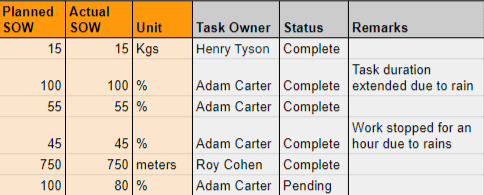 In the Task owner section mention the name of the person who is in charge of the particular tasks. The status column shows if the task is completed or pending. In the remarks section, you can add any remarks on hindrance faced, action taken, etc.
Construction Project Daily Progress Tracking Report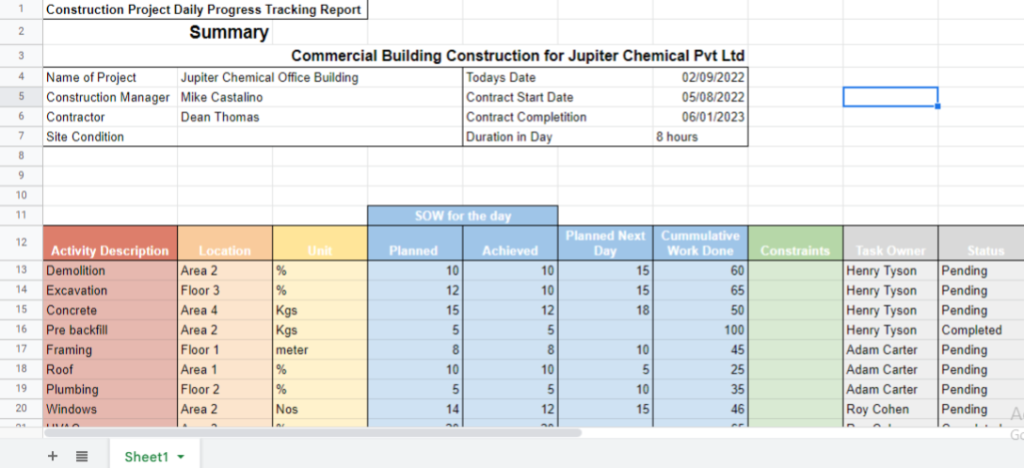 The daily progress tracking report can be used to track different activities within a day.
There are different activities listed within the Activity Description column that needs to be completed for that date. Each of these activities will have a different SOW. This SOW tracking is required to monitor the progress of each activity. You can record planned SOW for the next day and cumulative SOW in the next 2 columns. Constraints faced can be recorded.
Task Owners can be assigned to each activity. The status columns show if the activity is completed or still pending.
Using S Curves for tracking construction projects
S curve is a widely used project management tool based on earned value management. It can be used as an integrated construction tracking dashboard.
S Curve plots cumulative value of % progress or work done against timeline.
Planned Vs Actual progress
When the planned progress percentage or work to be done are plotted cumulatively against timeline, what we get is a planned S Curve.
When actual progress percentage or actual work done are plotted on the same graph, we can compare – how much work was planned to be done within a specific time AND how it has actually progressed.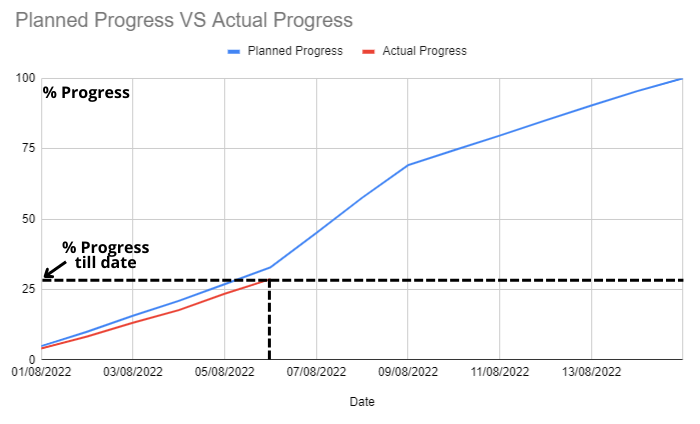 Maintaining the progress data
When you download the construction progress report example sheet, you can edit the sheet and add your own data as per your requirement. But the main challenge managers face is to get the latest data in the sheet. Since the actual progress tracking is done with some other tools (ERP, Progress tracking Software etc.), someone from your team will need to spend a lot of time and effort to get that data and manually update in this sheet.
Since it needs to be done manually, it doesn't get updated very often. The whole purpose of having this sheet will be defeated if you can't see the latest project progress there.
It is possible to overcome this challenge by directly connecting your progress tracking process with this spreadsheet. Connecting your construction project management tools in Google drive brings a lot of easy connectivity to the project management processes.
Here is a construction project management solution that connects all your important project management tools – schedule, scope of work, budget, material & progress tracking etc. to finally report the overall project status and health on a centralized report.
The same solution can also be customized for different industry verticals. For example, here's a customized solution for managing solar installation projects.
Click here to try for a free.