In the world of SaaS (software as a service), there's a lot of competition, and it's easy for new ideas to get lost in the crowd. Sadly, most startups don't make it past five years, with only 10% surviving.
This is where micro SaaS enters the game. If you have a great idea that can help businesses or regular people solve a problem, it's definitely worth considering.
In this blog post, let's understand the difference between SaaS and micro SaaS as well as dive into some successful micro SaaS examples.
What is the key difference between SaaS and Micro-SaaS?
Before we dive into the world of Micro-SaaS, it's essential to understand how it differs from traditional SaaS (Software as a Service). SaaS companies typically offer extensive software solutions to businesses and individuals.
These solutions often cover a wide range of functionalities, from project management to CRM, and they can be relatively complex.
Micro-SaaS, on the other hand, focuses on offering highly specialized, niche solutions that cater to specific problems. These products are characterized by their simplicity and user-friendliness.
They often require less investment, making them an ideal choice for startup entrepreneurs.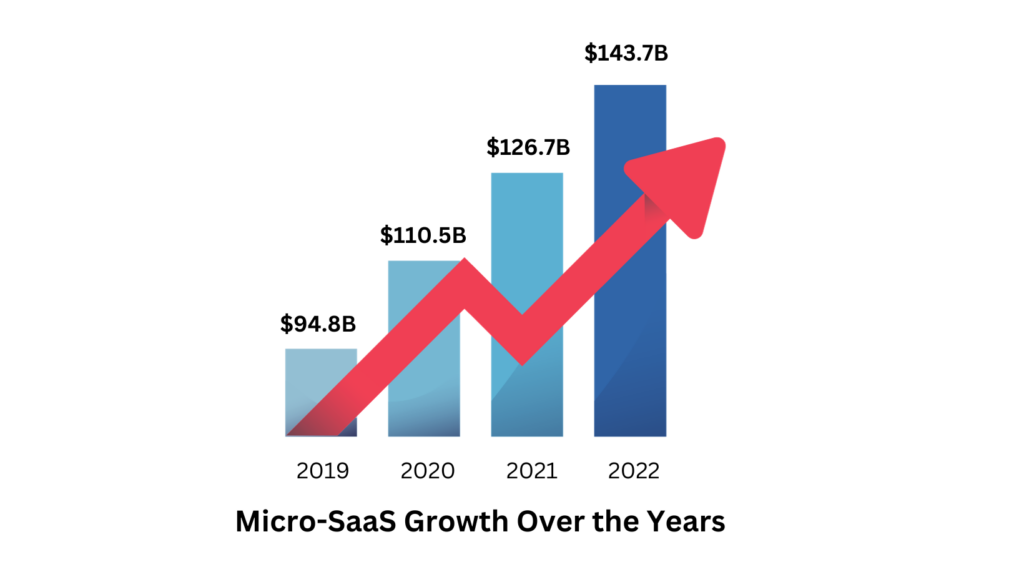 Successful micro SaaS examples
Let's explore a diverse range of micro-SaaS examples and discuss how you can develop micro-SaaS solutions within each category.
1. AI-Based Micro-SaaS
AI-driven micro SaaS ideas have the potential to shake up different industries, so it's crucial not to ignore this technology when developing your micro SaaS concept.
Start by understanding the specific problems or tasks within your micro SaaS that could benefit from AI. Whether it's automating repetitive tasks, improving data analysis, or enhancing customer support, pinpoint the areas where AI can add value.
AI-based micro SaaS examples
ChatGuru: An AI-based micro-SaaS that enhances e-commerce customer support through AI-powered chatbots.
Fliki: An AI-based micro SaaS that allows you to convert text into audio.
AutoTasker: AI-driven automation tool designed for small businesses, making routine tasks a breeze.
2. Sales-related CRM and Lead Generation
Sales professionals always require tools to enhance their productivity and effectiveness. You could create a micro-SaaS solution that caters to a specific niche within the sales industry, such as real estate agents or insurance brokers, offering them a tailored CRM or lead generation tool.
Sales-related micro SaaS examples:
Solar CRM: A micro-SaaS CRM designed exclusively for solar project managers to capture and track leads
InsuranceIQ: A lead generation platform that specializes in providing qualified leads to insurance agents.
EventPlannerCRM: A niche CRM designed for event planners, making it easy to manage client relationships and event details.
Here's how you can start developing your CRM solution on Fuzen from scratch:
3. Productivity
Productivity tools are in high demand, but developing a micro-SaaS offering in this space requires a unique approach. Consider building a habit-forming tool that uses gamification to help users establish and maintain productive routines.
For example, a micro-SaaS focused on time management could reward users for sticking to their schedules, creating a sense of accomplishment and motivation.
Productivity-based micro SaaS examples
HabitHero: A gamified micro-SaaS that helps individuals form good habits and stay motivated.
TimeTrackerX: A time management tool with built-in gamification features to boost productivity.
GoalGetter: Micro-SaaS for setting, tracking, and achieving personal and professional goals.
4. Digital Marketing
Educating and empowering businesses is the key to success in the digital marketing micro-SaaS sector. Develop a solution that not only automates marketing tasks but also provides educational content and resources. By helping businesses understand the ever-changing digital landscape, your micro-SaaS can foster long-term growth for your clients.
Digital marketing-based micro SaaS examples:
SafeMailer: A micro-SaaS platform designed to help businesses simplify their cold emailing efforts.
ContentGuru: A content marketing assistant that guides users through content creation and optimization.
SEOWhiz: Specialized SEO software for small businesses and bloggers, offering actionable insights and recommendations.
5. Project Management
The project management space is vast, but by targeting specific industries or project types, you can carve out your niche. For instance, create a micro-SaaS for construction project management, offering features tailored to the unique needs of the construction industry.
Project management-based micro SaaS examples:
ConstructPro: A micro-SaaS project management tool tailored for the construction industry, addressing its unique requirements.
CodeSync: A project management solution optimized for software development teams, streamlining their workflows.
MarketPlan: A niche project management tool designed for marketing professionals, offering specific features to handle marketing projects efficiently.
6. Finance-Related
A micro-SaaS focused on finance could find success by targeting a specific location, such as a country or region with unique financial regulations.
Customizing your tool to meet the compliance and reporting requirements of that area can make your solution invaluable to local businesses.
Finance-based micro SaaS examples
InstaBooks: A micro-SaaS focused on simplifying tax management for businesses as well as handling finances easily.
CryptoTrack: A cryptocurrency portfolio manager catering to the needs of crypto investors, providing insights and tax reporting specific to the cryptocurrency market.
RetailFinance: A finance tool for small retail businesses, assisting with inventory management, sales tracking, and financial analysis tailored to the retail sector.
7. E-Commerce
Within the e-commerce sector, micro-SaaS businesses can focus on enhancing specific aspects of the customer journey. Consider a micro-SaaS that optimizes post-purchase experiences, such as returns and exchanges, to reduce customer churn and boost loyalty.
E-commerce-based micro SaaS examples
ReturnEase – An e-commerce tool that simplifies the return and exchange process for online shoppers, enhancing the shopping experience.
WineWiz – A wine e-commerce platform offering recommendations, reviews, and personalized wine selections for wine enthusiasts.
PetPalace – An e-commerce micro-SaaS specializing in pet products, providing a tailored shopping experience for pet owners.
8. Real Estate
Real estate micro-SaaS can serve various niches within the industry, from residential property management to commercial leasing.
By tailoring your software to address the unique challenges and needs of a specific real estate market, you can gain a competitive edge.
Real-estate-based micro SaaS examples
PropManagePro – A real estate management platform that assists property managers in overseeing residential rental properties.
Commercio – A micro-SaaS focusing on commercial real estate, offering property listing management and deal tracking for brokers.
UrbanNest – A platform catering to urban real estate, helping buyers find unique city properties and connecting them with specialized agents.
9. Hospitality
The hospitality industry presents an opportunity for micro-SaaS solutions that specialize in guest experience management, hotel operations, or restaurant reservation systems.
By providing tools that streamline operations and improve customer satisfaction, your micro-SaaS can make a significant impact.
Hospitality-based micro SaaS examples
EzyHotel – A micro-SaaS that streamlines bookings, expenses, and billing for hotels.
RestaurantReserve – A reservation and table management tool designed for restaurants, helping them optimize seating and customer service.
EventPlanner – A specialized event management platform for event organizers, featuring vendor management, scheduling, and guest engagement tools.
10. Environmental and Sustainability
As the world embraces sustainability, micro-SaaS businesses can create tools that help organizations monitor and reduce their environmental impact.
For example, a micro-SaaS focused on energy management can assist companies in optimizing their energy consumption and reducing costs.
Environmental and sustainability-based micro-SaaS Examples
GreenEcoTrack – An environmental micro-SaaS that helps businesses monitor and reduce their carbon footprint through energy and resource management.
EcoSupplyChain – A sustainability platform that focuses on supply chain management, helping companies source eco-friendly materials and track their sustainability efforts.
RecycleSmart – An app that educates users on recycling best practices, offering recycling tips, waste disposal guidelines, and nearby recycling centers.
Create your micro-SaaS with a no-code tool
No code platforms have made it easier for everyone whether you have the coding knowledge or not. It helps:
Create your micro-SaaS faster than traditional coding methods. This rapid development can help you bring your product to market more quickly.
Reduce development costs, as you won't need to hire expensive developers or invest in extensive coding resources. This cost savings is especially beneficial for startups and small businesses.
Quickly build prototypes and test your product's viability in the market. This agile approach allows you to iterate and refine your micro-SaaS based on real user feedback.
Adapt and customize your micro-SaaS as your business grows and evolves. You can make changes and updates without extensive coding knowledge.
Reduce Maintenance, thus, freeing you to focus on your micro-SaaS's functionality and user experience.
Scale your micro-SaaS as your customer base grows, ensuring your product can handle increased demand without extensive coding work.
Conclusion
Micro-SaaS is about creating smart and helpful tools for small groups of people who really need them. Instead of trying to make something for everyone, Micro-SaaS focuses on solving the unique problems of smaller groups.
When we look at the success stories in different areas, we see that Micro-SaaS has the potential to change the way we do things. It's a bit like how smartphones changed the way we communicate and access information.
So, if you're interested in creating your own software and making a difference, think about Micro-SaaS. Leveraging no-code tools can further ease your work once you have an idea.