The demand for residential solar PV installations has been increasing in the last few years, thanks to decreasing costs of PV installations. But the number of solar PV installers has also gone up, leading to increased competition, even in the residential solar space. So how do you ensure steady lead generation for your residential solar installation business?
Let's look at some commonly used marketing channels – online and offline. Let's examine their pros, cons, associated costs and risks.
Important factors to consider
Local presence
If you're running a residential rooftop solar installation business, you should probably expect most of your business to come from local customers in your own area. That's why it is very important to focus your lead generation strategy on the residents in your locality (town, city, district level targeting).
B2C Marketing
In the residential rooftop space, it is important to remember that you are targeting consumers and not businesses. That's why you need to think in terms of B2C marketing. Your go to market approach should be scaleable, trying to reach a large number of potential customers.
Efficient B2C sales process
Additionally, your sales approach should also be B2C. Since each order will be relatively smaller, you can only spend so much of time per lead.
Moreover, the sales process for solar PV installations is so much more than just talking to customers. In most cases, you also need to do site surveys, ROI analysis before you can get an order. Each lead can therefore take up a lot of time of your valuable sales resources.
So, how do you make sure your sales process remains productive? Sales automation tools can help you with that. You should definitely consider using a CRM customized for solar installation sales, to streamline and optimize your sales process.
Advertise the reliability of your products and services
You need to always convince your prospective customers about value of solar PV – how it is going to reduce the electricity bills, why it is a more reliable choice and how they could be saving on utility bills while also helping out the environment.
But once, they decide to go ahead with the PV installation on their rooftop, they will be thinking in terms of long term reliability of your products and services.
You need to stand out from the competition based on proven track record of your products and testimonials from your other local customers.
You need to stand out from the competition based on proven track record of your products and testimonials from your other local customers.
Online channels for residential solar lead generation
Google My Business
Most of your lead generation for residential solar installations is going to come from Google searches. Once someone decides to have a solar PV installation on their roof, first thing they will do is a Google search for solar installers in their area.
That's why it is very important that you get seen in the search results. First step is to update your business details on Google My Business. Once you update those details, they become more visible and accessible to anyone who is looking for your products and services.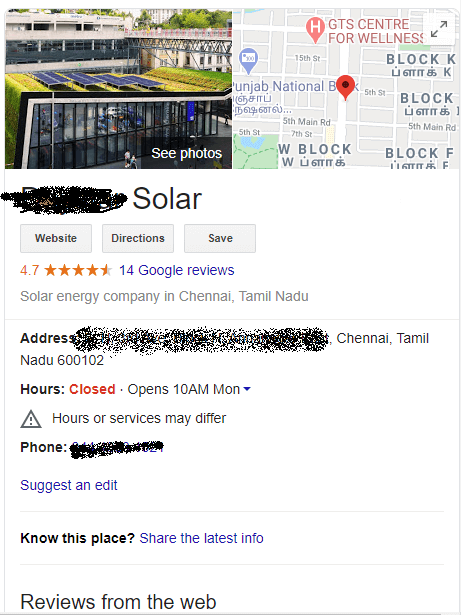 Most importantly, you make it easier for prospective customers to find you and contact you.
Google Maps
But most people looking for solar PV installation, will not search specifically for your business. They will just search for "solar installers in **** ".
For example, if someone in Singapore performs a Google search for solar installers, this is what they will see.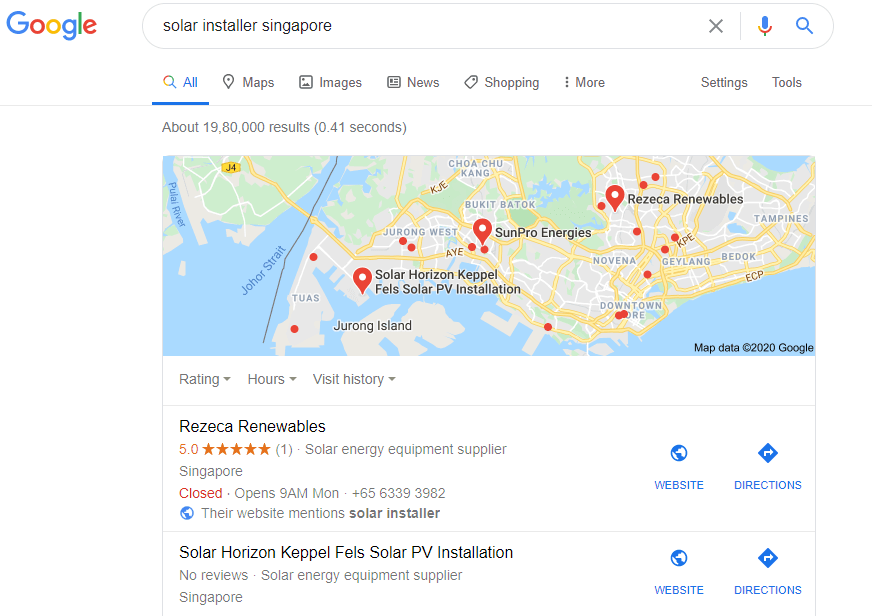 The very first search result is a Google map showing all the solar PV installers in Singapore. 90% of the people will click on the map and explore further from there. That's why you should ensure that your business also gets shown in the map.
Your company details like contact number, website, working hours and most importantly office address should be properly updated in Google Maps.
Google Ads
However, if your business is new, it will take some time for Google to index and rank your site. That's why, it will also take some time for your business to start showing up in Google search results.
Even when it starts to appear in the search results, initially it will be placed lower in the listed results. So how do you get leads in this initial phase?
You can use Google Ads to target people in your area. Google Ads will put your business listing on top of the search results, drastically increasing the chances of someone clicking on it.
If you are working with a limited budget for marketing and ads, you should –
Strictly restrict ads to people in your locality.
Only target people searching for solar PV installation services.
Analyze which relevant keywords people are searching for from your target geography. Serve your ads only for those keywords. Use this free tool for keyword analysis.
Business Directories
Some people may also search for solar PV installers in local business directories. For example, Indiamart and JustDial are two leading business directories in India. Basic listing of your business is free.
You don't want to miss out on these channels which can send you very warm leads. So it is absolutely necessary that you at least create a free listing for your business and fill in all the important details.
Blogs & SEO
When you set up a new website for your business, initially it doesn't show up in the Google search results. As time passes, the visibility improves, but it still gets shown at the bottom of the search results pages.
The reason for this is low domain authority score. The only way to improve your domain authority score is with Search Engine Optimization (SEO). The best and most widely used method for SEO, is writing a ton of content – blogs, case studies, whitepapers etc on your website.
For your localized residential solar lead generation, first analyse what keywords you want to target for SEO. Then ask your sales and marketing team to start writing blogs about those keywords. Over a period of time (4-6 months) you will see improvement in your standings in the search results.
OR you can hire interns, freelancers for writing the content. You can hire freelance content writers from fiverr or upwork.
Videos & Youtube
Since we are taking about residential solar lead generation, video is a powerful medium to reach and influence individual buyers.
You can make following types of videos on your youtube channel –
Interview your happy customers. Ask them about their experience / feedback. Share these video interviews on social media and tag your customers, so that you can also reach people in their network. They will be the best prospective customers for you.
Analyze the local rules and regulations about renewable energy on video. For example, if you make a video about the local Government's net metering policy and associated pros and cons, you can reach many people who are interested in the subject.
DIY (Do It Yourself) videos of how how to install a PV panel or how to clean it up are also going to be interesting for your prospective customers. Even if they install or clean a panel by themselves, they will still come to you for buying those panels
Facebook
Facebook is a good channel for promoting the content that you have already generated – blog posts, infographics, videos, interviews etc.
But, you can go one step further and share content from other people as well, as long as they are not competitors operating in your own area. This will help you in building a following of people genuinely interested in solar PV energy.
You can also use highly targeted Facebook ads for promoting your content to people in your area who have already shown interest in renewable energy.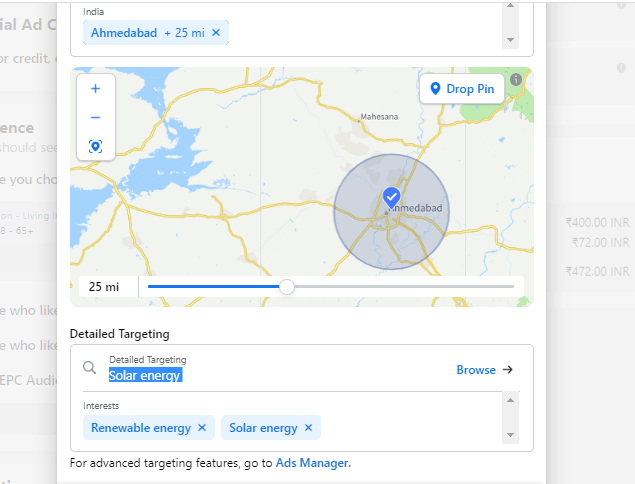 To get more value for you advertising dollars, you can go to the 'Detailed Targeting' settings. Here you can target people in your area based on their, income, educational background, work etc.
Newsletters
Other than search engines and social media, email can be an equally powerful channel for residential solar lead generation.
But, since we are talking about B2C outreach you want to rely more on informative newsletters with a mass appeal, than on B2B style cold sales emails.
First part is – building a mailing list of people who are interested in your newsletters. So when someone visits your website and spends more than 5 minutes there, you should definitely ask them to subscribe to your newsletters. Use a pop-up form like this to get their email addresses –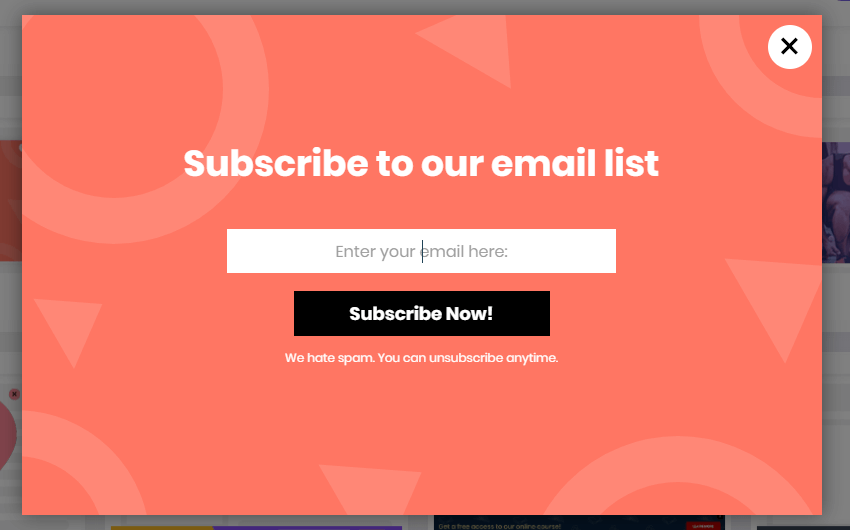 You can use a tool like Poptin for creating engaging pop-ups and increasing your newsletter email list.
Once your mailing list is ready, you can use an email marketing tool like this one, to send nice looking HTML email newsletters to your leads. If you use a mass mailing tool like mailchimp most of your emails will not even reach the recipient's inbox, leaving you with an email opening rate of just 10-12%. But cold email automation tools help you to avoid the spam filters and get more than 50% of your emails opened.
Offline lead generation channels
These days a lot of the communication happens online, even in local communities. For example, instead of community or society meetings, people rely more and more on WhatsApp or Facebook groups.
That's why the effectiveness of offline channels is very limited for residential solar lead generation. But still, here are a couple of things that you can consider doing.
Pamphlets / Flyers
This is most effective when you start you operations and you want to make an announcement to your local community. Then, you should print flyers an distribute them in your local neighborhoods to let them know of your new business.
It's an inexpensive way to get attention in the initial days, when Google searches are unlikely to give you any exposure.
Newspaper Ads
If you have a bigger marketing budget, then you can make a bigger announcement with ads in the local newspaper.
But again, this is helpful only in the initial days. Later on it will turn out to be more expensive than the other online outreach channels.