Site surveys are indispensable to solar PV installation projects. Let's look at site survey best practices, checklist and formats for solar site survey report.
Table Of Contents
1. Objective of site survey
2. Site survey checklist
3. Site survey form template
4. Carrying out site survey
5. Preparing the report
6. Site survey report format
Objective of site survey
Main objective of a site survey is to gather customer details, site measurements and detailed requirements for solar installation project. All these details are very important for the solar project proposal.
A solar project site survey should answer following questions –
Is there enough space for solar PV installation?
What is the shadow free area? What is the average sunlight there?
What is the orientation of the building? What would be the azimuth angle?
Current state of electrical infrastructure – sanctioned load, current connection etc.
The average and peak requirements for the customer
Site survey checklist
Accordingly, here's a checklist of all the details that should be captured in a solar site survey form.
✅ Customer Information –
Name, Company Name, Address, Contact Number etc.
✅ Site Information –
Latitude & Longitude, Roof height, Free Space, Structure Type (RCC / Metal sheet) etc, Roof orientation, Roof tilt angle, Shading
✅ Electrical Infrastructure –
Sanctioned load, Connection type (single / 3 phase), Installed Capacity and Voltage of Transformers, Consumption load
✅ Additional Documents –
Recent electricity bills, Single line diagram, Rooftop sketch, Site photos
✅ Financial Information –
Customer's requirements, budget, financing needs etc.
✅ Local Regulations –
Local regulations regarding solar installations, load approval and grid connectivity
This site survey form will serve as a checklist of all the details that need to be recorded when meeting with the customer.
Understanding the budget and purchase urgency
A customer's budget or purchase urgency may not always be captured in the site survey form. Because, many customers would not discuss the budget or payment terms before seeing a proposal.
But it would be very useful to at least get notional understanding of the budget and purchase urgency. Accordingly, you can devote time and attention to that particular lead.
We recommend that you ask the customers when they want the installation to be done. That will give a better idea about purchase urgency and budget readiness.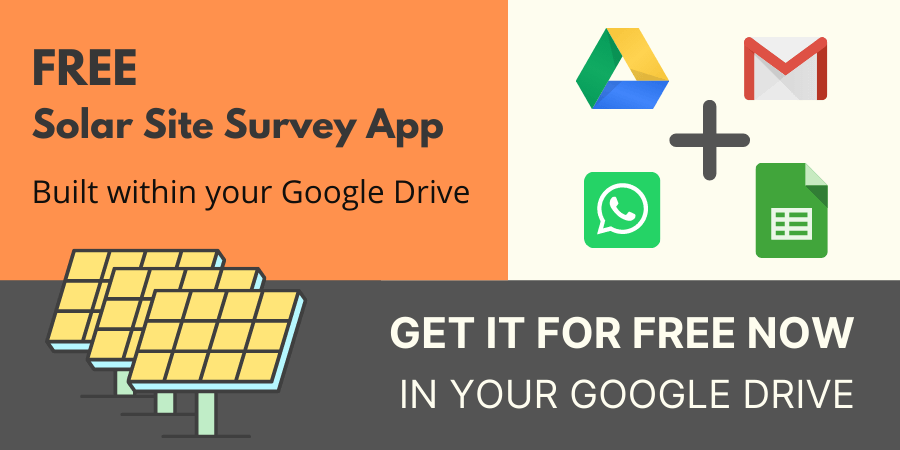 Using a site survey app
Site surveys are often carried out during the sales process for solar installation projects. At the sales stage, a visit to the customer will serve dual purpose of initial discussion with customer as well as an opportunity to record the site details.
Mobile friendly site survey apps can be used to record the details collected during this customer visit. A solar site survey app with following features would be useful –
Mobile friendly UI
Lightweight (for low network areas)
Connected to solar CRM
Configurable site survey forms – for different products, PV, heaters etc.
Questions to evaluate purchase urgency and budget (to help you qualify the lead)
Email integration for real time email alerts
Configurable workflows to share and collaborate with site survey data
Integration with proposal workflows to quickly create solar proposals and share with customer
FUZEN Solar CRM is connected to a mobile friendly site survey form. Site survey measurements, photos, updates sent by your sales team are immediately updated in your solar CRM dashboard.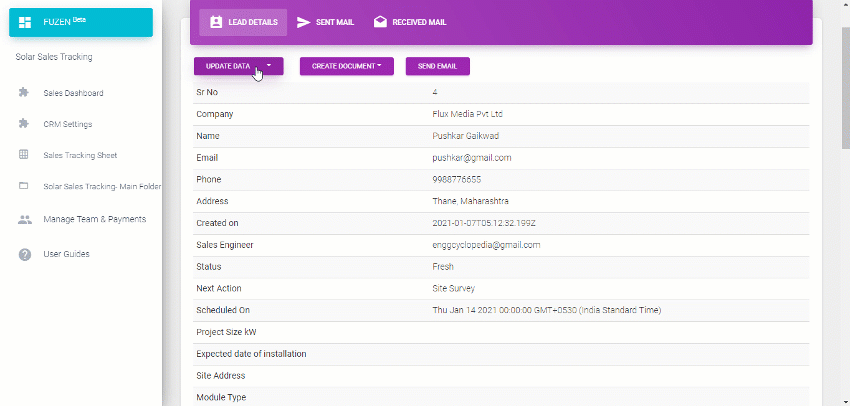 Click here to try this site survey app for free.
Subsequently, you can also use the collected site survey data in a proposal template to quickly create a solar installation proposal that can be quickly sent to your customer.
A site survey app can make things convenient. But it should be well connected to your CRM and should have the features listed above.
Form templates
We have prepared a standardized solar site survey form. It can be used as a starting template or a starting point. Then you can customize it based on your own operations and type of target customers.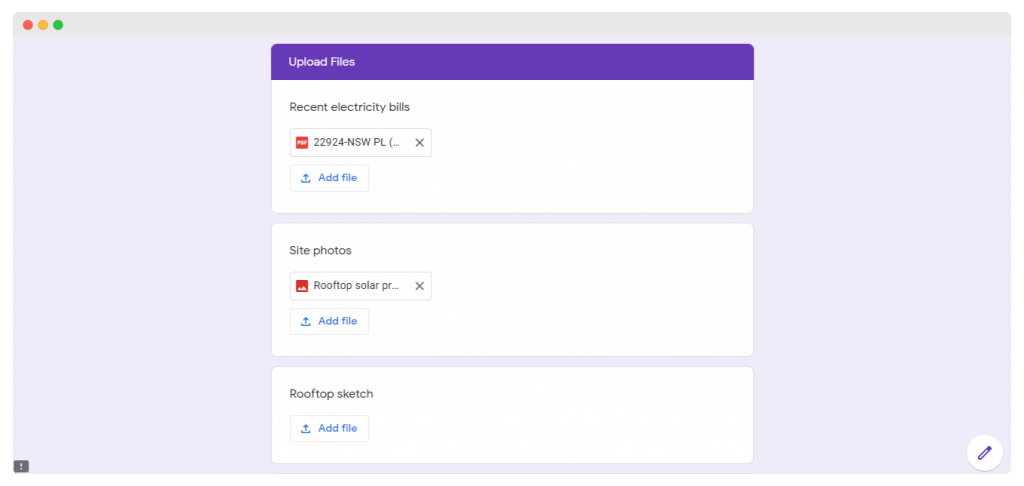 Download site survey form as PDF
Get this as a Google Form, in your Google Drive account
Site survey report
Details from site survey are subsequently used by the engineering and project teams, for design, analysis and proposals. They need a well structured site survey report to refer to.
Basic requirements of a solar power plant site survey report:
It should provide clear and complete understanding of the project site to the proposals team, so that they can create a techno-commercial proposal without any assumptions.
It should also provide a notional understanding of the prospect's budget and readiness for a new solar PV installation, for deciding the commercial details of the proposal.
A report should be automatically generated as soon as the solar site survey is completed, to minimize the time taken between site survey and proposal submission. This is very important in order to keep the competitors from stealing your prospects. Fuzen's solar sales tracking app helps you to directly email a site survey report to your team from your mobile phones.
It would be very useful to record the site survey report in your solar projects CRM. This way you can refer to these details easily at any point in future. Sometimes your customers ask you to come back after 5-6 months when they have budget. At that later time, you would have the site survey report available at your fingertips.
It is quite common for solar PV installers to work with partners on some projects. Therefore your site survey report should be simple enough to be understood by anyone in the solar installation business.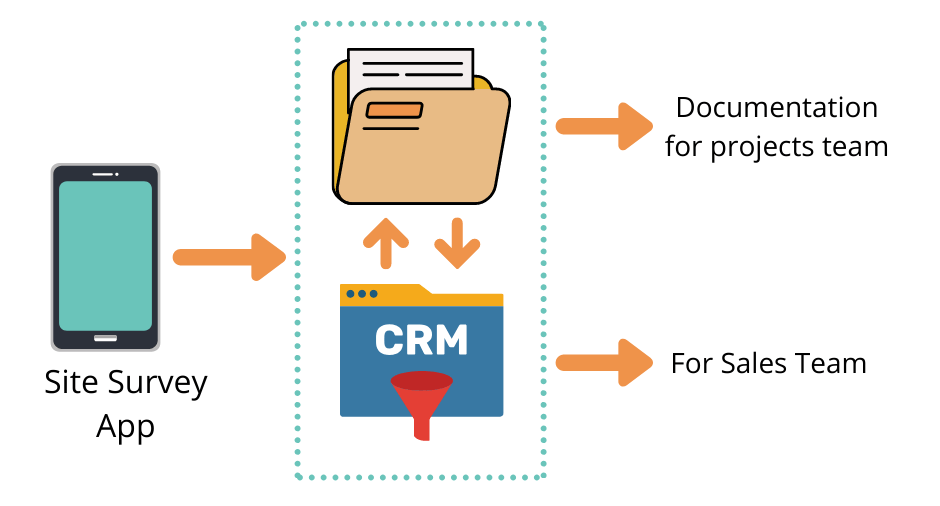 A solar site survey report should capture all required details from the customer's side for creating a techno-commercial proposal. If your site survey app is connected to the CRM, site survey reports can be easily automated to make the whole process frictionless.

Report format
Any format should be fine, as long as the following key guidelines are followed –
Use easy language and common terms used in the industry. So that if you decide to work with a partner on any project, they should be able to understand your reports.
Use commonly accessible documents such as PDF, HTML, Email etc.
Put all the information about – customer, site, electrical infrastructure, photos, documents etc. in one single file.
Preferably, site survey should be done with a site survey app connected to CRM, so that the report remains easily accessible from a database.
Sometimes the site surveys are done after the solar system has been sold to the customer. As part of quality assurance, you may also do a post-installation site survey. In that case you may want to integrate the site survey app to your solar project management or solar ERP solutions.