Solar PV installation is a highly competitive business. Steadily dropping prices for solar PV have resulted in higher demand, but also in higher competition.
Correspondingly, lead generation for solar projects has also become more expensive. So if each new lead is going to cost you more marketing dollars, you better get more value out of those leads to remain competitive.
In other words, you must maintain and operate a highly efficient sales process for your solar projects to succeed in this highly competitive market. That means you need to increase the conversion ratio in your sales process – from leads to purchase orders.
So how do you increase the productivity of your sales process?
First, set up clearly defined lead management workflow. Then implement it using a customized solar CRM software. Use that CRM to track your sales. Then use the sales data to find out bottlenecks and fix them.
So, a CRM can be very useful to optimize the your solar PV sales process. Now let's look at what should be your key objectives for a solar CRM software and what should be its key features.
Objectives for the sales process
On a broad level, these should be your objectives or expectations from a solar CRM software –
Keep track of all customer data & documents
In solar PV system sales, you have to get a lot of data from a customer, even before he places an order. For example – you need to do a site survey, get site measurements, photos, electricity bill, location coordinates etc. Sometimes you also need to do basic engineering design before getting the order.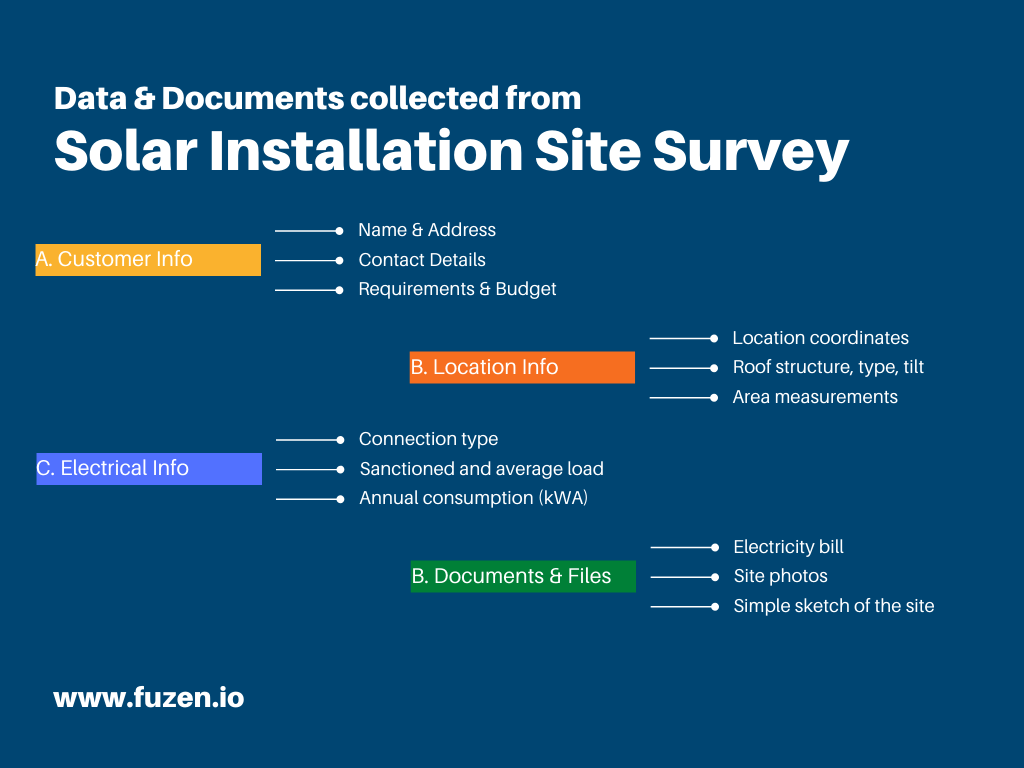 Your sales process needs to track all of this data, so that it can be easily referred to at any time in the sales process or after getting the order.
Sometimes the orders get delayed by months, due to variety of reasons. You should be able easily to track and access this site survey data, even after a few months.
Easy accessibility from any location
Most of the work during sales process is done on the site, including customer meetings, site survey, document collection etc. That's why you need a solar CRM which is easily accessible from anywhere. So that you can easily submit the documents, data, photos while on the site.
It should also be accessible from areas with low network bandwidth.
Fast tracked sales process / quick proposal submission
Solar installation is a competitive business. If you take too long to send a proposal to someone, you allow your competitor to steal that lead away from you.
Your goal should always be to minimize the time taken from lead generation to proposal submission. It also creates a positive impression with your customers, about how you operate with optimal efficiency.
So, your CRM should enable the sales process to keep moving at great speed.
Intelligent insights
No sales process is perfect. Even your sales process would definitely have some gaps and shortcomings. And that is fine, as long as you make an effort to find out the problems and fix them.
Your CRM should provide you with all the data required to analyse your sales and where the sales process is falling short. So that, in the long run you can try to fix it.
Connectivity with project execution process
As we saw earlier, your sales team collects a lot of data even before the order is placed. A lot of that data is useful in the project execution stage.
But, you don't want your project execution team to again collect and record that data. That would be absolutely needless duplication of efforts. Also, they should also not disturb your sales team for every small detail collected from the survey.
Instead, the best way for them would be to have direct access to the customer and survey data recorded in your CRM.

Connectivity with marketing process
If you do any online marketing for your solar installation projects, you would ideally want to connect your marketing apps with the CRM to facilitate easy data transfer.
It also means that your sales team can start working on a lead as soon as it is generated.
But, not all of your leads are going to convert to orders. Some of them will wait until they have budget or until the pricing becomes more favorable. You should transfer these leads back to marketing. So that they can be still engaged with email marketing or other channels.
Key features for solar CRM software
Now, let's look at the important features for solar CRM, in light of the objectives discussed so far.
Connection with document management, filing system and folders
Most generic CRM platforms will enable you to manage customer data. But in case of solar PV sales, you also need to manage documents, photos and other files.
That's why you would need a CRM that can connect readily with document management and collaboration platforms like – Google Drive, Dropbox, Onedrive, Office 365 etc.
A solar CRM software should be connected to a standardized project proposal document, so as to easily create proposals by inserting customer details from CRM into the template. This will greatly speed up the proposal submissions.
Mobile friendly, lightweight UI
Your solar CRM is going to be frequently used from the field, for site surveys, customer document collection etc.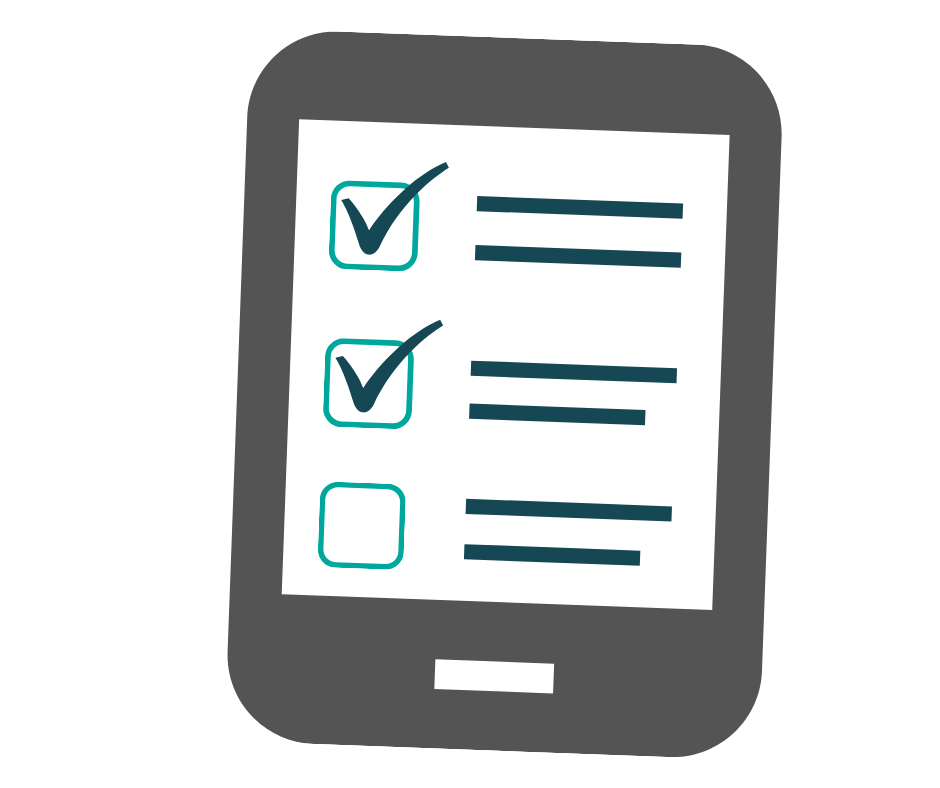 Accordingly, it should be mobile friendly. It should also be lightweight so it can open in areas with low bandwidth. It would be an added benefit to have a mobile friendly site survey app.
Real time email alerts
You should always look for a CRM which can send real time email alerts to the team. For example – as soon as the site survey is completed, the site survey data and files should be emailed to the team in office. So that they can create and submit a proposal without wasting any time.
This is a very important feature in order to minimize the time between lead generation and proposal submission.
Daily todo list emails
Additionally, your solar CRM software should also send daily todo list email alerts to everyone on the sales team, to help them complete all the pending actions at their end. Each sales rep should receive a personalized todo list email to only highlight the items pending at their end.
It's recommended that the todo list should be mobile friendly and should enable easy upload of customer information and documents.
Custom workflows
Speaking of speeding up the sales process, you don't want to be bound by the default sales workflows that come with the CRM.
Instead you should look for a CRM which allows you to create your own customized workflows. That way you can experiment and find out which process works the best and the quickest for your team.
Easy to integrate with other apps
Your sales process is deeply interlinked with project execution and marketing, as we saw earlier.
That's why you would want a CRM which allows easy integration with other apps used for – project management, email marketing, online ads, accounting etc.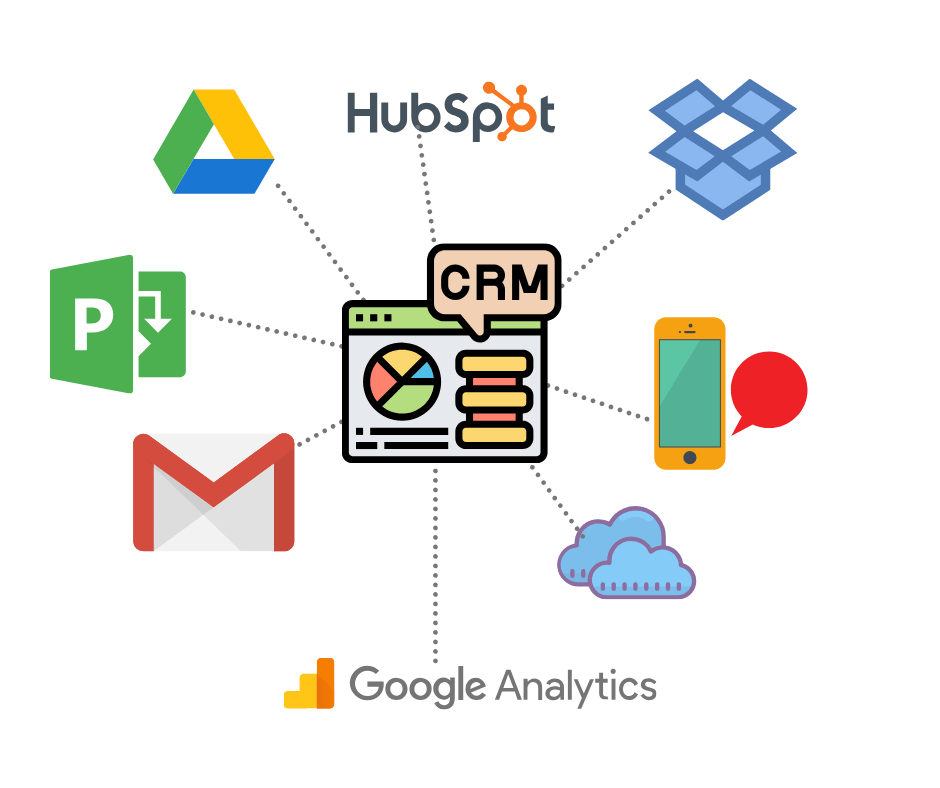 Customized sales checklist
Finally, the optimization of your sales workflows is going to be an ongoing process. Often there is a lot of room for improvement, if we only look for it. Your CRM can help you in identifying any gaps, bottlenecks in the sales workflows.
Create a checklist within your CRM to identify why certain deals did not close. That will give you a lot of information about the lost sales opportunities. In the long run this information will help you to understand the shortcomings of your products and services, and to improve them.